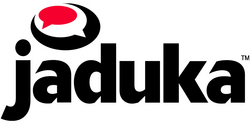 We've seen continual growth in our customers' voice traffic indicating strong adoption of our portfolio of voice services and programming tools
Dallas, Texas (PRWEB) June 23, 2008
Jaduka® (http://www.Jaduka.com), a leading provider of Web-integrated communication and transaction tools, is reporting over 4 million minutes per month in customer voice traffic.
Jaduka provides customers access to a variety of innovative services through its Web Services APIs, including: voice conferencing; web-initiated and privacy-protected phone calling; automated voice alerts and notifications; broadcast messaging; and VoIP-based PC-to-phone services.
"We've seen continual growth in our customers' voice traffic indicating strong adoption of our portfolio of voice services and programming tools," said Jaduka President Jack Rynes.
Jaduka's API's and software development kit are optimized to leverage the platform capabilities of NetworkIP, its parent company. NetworkIP's carrier-grade telecommunications and services platform currently supports 865 million unique user accounts, and each day processes 700,000 API transactions and 1.5 million database queries.
"Because Jaduka's branded and customer generated voice services represent a potential lifetime of transactions through recurrent usage, our network is fast to support an increasing number of new user accounts, powerful to enable multiple, simultaneous transactions, and scalable to support millions of new user accounts per day," added Rynes.
Jaduka is again following its successful model of redeploying NetworkIP's unique strengths with the company's recently launched Transaction Services. The new high-volume, real-time data and account management services give digital publishers and aggregators the ability to leverage traditional retail distribution with stored value cards and also support direct e-commerce transactions through easy-to-use Web Services API's. Jaduka currently has the capacity to create 28 million new user accounts a day, process 300 million database queries each day, and process 1285 account transactions per second. Additionally, Jaduka is interconnected with major global Point of Sale Activation (POSA) networks with existing connections to over 506,000 retail locations.
In the future, as mobile phones and handheld devices become point-of-sale purchasing tools, Jaduka's transaction services will afford merchants greater levels of retailing convenience. By combining its unique services portfolio with easy access to the powerful capabilities of NetworkIP, Jaduka is able to readily handle today's requirements while simultaneously future-proofing its customers' businesses.
About Jaduka:
Jaduka enables its customers to harness communications and technologies that create more effective business operations. Through its developer-friendly, SOAP-based Web Services API, the company's award-winning technology allows applications to trigger individual or group telephone calls; provide automated alerts; manage surveys and other digital files; and administer account information and transaction history for a variety of applications. From automating customer communication to facilitating spontaneous employee collaboration to enabling near-field communications purchasing convenience, Jaduka is future-proofing its customers' business processes. For more information, visit http://www.jaduka.com.
###