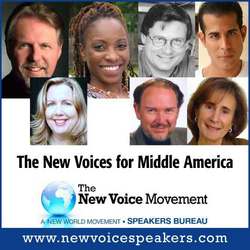 Every once in a while an extraordinary leader materializes. Melissa Zollo is just that person. She is a true visionary. Melissa explains the Spiritual Principle of Imaging, and inspires you to create new mental blueprints.
New York, N.Y. (PRWEB) June 22, 2008
The New Voice Movement http://www.newvoicespeakers.com is a new speakers' bureau devoted to helping each individual recognize their truest self and awaken to a new world community. Nationally syndicated columnist, author and speaker, Martha Randolph Carr has formed a new idea in a speakers' bureau dedicated to the new and growing spiritual consciousness. Unlike other bureaus, spirituality is no longer just a category. Instead, it is the base from which each speaker begins whether they are making a presentation about parenting, growing your business, aging or how to make the most of your wardrobe.
"Visual Therapy is going to change your life." Oprah Winfrey
Our newest speakers are: Jesse Garza, Daryl Cagle, Shannon Lanier, Melissa Zollo, Alan Seale, Barbara Biziou, Bob Lancer, Angelique Black McKoy, Don Campbell, Patricia Raskin, Susie Krabacher and Carol Ann Bowe. They are dynamic speakers who are already making an impact across America and have been praised by Oprah Winfrey, Deepak Chopra and Grace Durfee along with corporate and non-profit event planners from across America. The New Voice Movement Speakers' Bureau has made it easier for corporate America, U.S. colleges and universities and non-profit organizations who are all looking for ways to inspire, motivate, challenge and celebrate their people to find these great speakers and more.
"Martha Randolph Carr is the new voice for Middle America using insight, humor and a common sense approach to spirituality... She's the one to watch." Cari Dawson Bartley, The Cagle Syndicate
Martha Randolph Carr has been sharing a message of spirituality and change in an era of amazing growth and possibilities. The intention at every presentation has been to help people empower themselves and build authentic lives through the sharing of a vision. Participants are learning there is an easier and more fulfilling way. It is no longer about having it all but instead - having all of what each person defines for themselves as a good life. Now, Carr has formed a place for speakers and audiences to come together and share the new messages of empowerment. In 2008 The New Voice Movement began.
"I've had the great fortune to experience Alan Seale's power as a presenter several times. I can say that every interaction with him is transformational." 
Grace Durfee, President, International Coach Federation New England
"Every once in a while an extraordinary leader materializes. Melissa Zollo is just that person. She is a true visionary. Melissa explains the Spiritual Principle of Imaging, and inspires you to create new mental blueprints." Frank Gasiorowski, Host of Power Talk Radio
"Barbara is a popular and dynamic teacher who has inspired many through her charismatic style and genuine warmth. Barbara's classes consistently get rave reviews by her students." Sandy Levine, Program Director, NY Open Center

Coming soon: The New Voice Speakers Radio Show which will air once a month and feature our speakers.
More new speakers including: Daryl Cagle, CEO of the fastest growing cartoon and column syndicate in America, Cagle Inc. who speaks about freedom of speech and politics and Susie Krabacher, founder of Mercy & Sharing, (a charity that provides care to Haitians) and author of Angels of a Lower Flight whose compelling life story is about to become a major motion picture.
And, Peggy Guy, an event planner with over twenty years experience who can help corporations and organizations plan their special event in part or down to the last detail. Guy is sought after for her innovative ideas that make each event unique and memorable without stress or strain for the client no matter whether it's for one hundred, one thousand or ten thousand people.
"Bob Lancer has demonstrated the unique gift of making deeper spiritual concepts immediately comprehensible and entirely practical. His rare ability to communicate in terms that unite rather than alienate enables him to reach audiences of all walks of life, backgrounds, and spiritual orientations with a level of truth previously reserved for the few." Deepak Chopra
Martha Randolph Carr, http://www.martharandolphcarr.com is a nationally syndicated columnist, speaker and author. Carr is the author of A Place to Call Home, (Prometheus) a memoir about the reemergence of U.S. orphanages, and a sought after speaker on the topics of race & politics, change, celebrating your children and spiritual growth. Carr is also the founder of the Family Tree Project, a free online orphan registry to reunite the more than 200,000 older alumni of U.S. orphanages. http://www.sharedabundance.us.
###