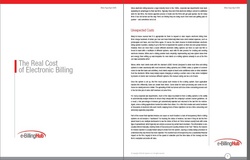 Pittsburgh, PA (PRWEB) June 23, 2008
eBillingHub, the world leader in simplifying electronic billing for law firms, today announced that Gregory M. Coticchia, eBillingHub CEO, and Gabriela Istruiz, co-founder and Chief Strategy Officer, will be featured guests on the Pittsburgh Technology Council's TEQ Radio Broadcast, Monday June 23, 2008 at 7PM, and rebroadcast Saturday, June 28, 2008, at 8:30AM.
Western Pennsylvania regional technology news is broadcast on 1410 KQV AM radio the fourth Monday of every month. Webcasts are hosted on the Pittsburgh Technology Council's website at http://www.pghtech.org/news-and-publications/teq/radio-show.aspx. TEQ Radio shares stories, news and events happening in Pittsburgh's tech community. Jonathan Kersting, Associate Publisher and Editor of TEQ Magazine, hosts this tech talk show.
eBillingHub, founded in Pittsburgh in 2002, has experienced record growth over the last eighteen months, growing its customer base year over year 155% and its sales over 454%. In late 2007 and early 2008, eBillingHub entered into multiple significant reselling partnerships with the major law firm software providers, including Elite, a Thomson Reuters Business, ADERANT, and RainMaker Legal. Mr. Coticchia and Ms. Isturiz will be discussing how they accomplished this success, and where they see the company heading in the future.
Greg Coticchia, CEO, eBillingHub
Greg has over twenty-five years of experience in technology products and services and is considered to be one of the best marketing executives in the software business. He has lead or been a major contributor in two of the largest and most successful software companies in the world, LEGENT (now CA) and AXENT (now Symantec). Most recently he was President and CEO of LogicLibrary, where he grew revenues at a rate of over 54% CAGR in a four year period, and was recently acquired by SOA Software.
Gabriela Isturiz, Chief Strategy Officer, co-founder
In her role as CSO, Ms. Isturiz leads the professional services, customer support/care, product definition strategy, and project management of releases. A native of Venezuela, Ms. Isturiz conceived and developed of the original idea of what is today the eBillingHub in 2001, in her role as Director of Application Development at a Pittsburgh-based law firm, where she served for over ten years. In that leadership position, she gained intimate knowledge of law firms' inner workings, and the need to software to automate business processes.
About eBillingHub®
eBillingHub delivers simplified electronic billing for law firms worldwide, making it possible for firms to eliminate costs and improve cash flow as they grow their electronic billing volume. The company's patent-pending technology, delivered as Software as a Service (SaaS), provides a comprehensive and collaborative approach for preparing, tracking, submitting and managing the electronic billing process. Unlike tools used by law firms to create LEDES invoice files, the eBillingHub simplifies the electronic billing process by integrating a law firm's time and billing software with multiple electronic billing vendors, which are often specified by a firm's clients. For more information, please visit http://www.ebillinghub.com
###