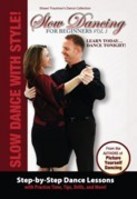 what you see is what you dance
Dunedin, FL (Vocus) June 21, 2008
In between fittings, RSVPs and honeymoon preparations, couples are inviting world-renowned dance instructor Shawn Trautman into their living rooms. Soon-to-be-married couples are becoming confident slow dancers in less time than it takes to watch a movie. And all it takes is pressing the "play" button on their DVD.
"Slow Dancing for Beginners Volumes I and II are designed to help couples master fundamentals for the first dance on their own schedule," says Shawn Trautman, CEO of Xpress Innovations, Inc.
The result is convenience coupled with expert instruction. Before Trautman DVDs existed, a happy couple would have carved time into their busy lives to travel to the local dance studio. After a few hasty visits, they'd go through the motions at their wedding reception and forget their newfound skills by the time they cut the cake.
Couples of all ages can expect to quickly master slow dance fundamentals and they'll take their newfound skills with them throughout their lives. Unlike other online dance lessons that guide students through mimicry, Shawn Trautman's slow dance series teaches the actual steps of each dance including how to lead and how to follow. This ensures full mastery – and the ability to build upon newfound skills with further instruction. Perhaps the best part of these dance lessons is the confidence and poise that brand new couples display during their first wedding dance.
All titles in Shawn Trautman's Learn How to Dance DVD collection incorporate picture-in-picture technology, methodical instruction and multiple angle views. The features are Trautman signatures that earn the instructor's full-length dance DVDs number one rankings across several categories in many online retailers including Amazon.com.
A top-rated dance instructor, Shawn Trautman is the founder of one of the best known dance lesson collections worldwide. Through his Xpress Innovations brand, unique features such as the "what you see is what you dance" format, close shots of the feet and tips for leaders and followers are showcased. The co-author of Picture Yourself Dancing and a frequent public speaker, Shawn believes anyone can learn to dance – and he's developed DVD and online classes to extend that opportunity. Shawn and Xpress Innovations can be reached toll-free at 877-DANCE-01. Learn more about all of Shawn Trautman's products at http://www.shawntrautman.com.
###