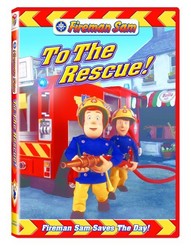 Los Angeles/New York (PRWEB) June 26, 2008
Everyone's favorite hero, Fireman Sam, and his trusted fire brigade demonstrate their courage and bravery in Fireman Sam: To the Rescue!launching on DVD for the first time ever in the U.S. on July 1, 2008 from Lionsgate and HIT Entertainment for a suggested retail price of $14.98. The ultimate hero next door, Fireman Sam races to the rescue of his friends and colleagues in all sorts of perilous situations. Based in the pleasant Welsh village of Pontypandy, Fireman Sam is a pillar of the community and the hero of every rescue. Whether stuck on a high cliff-face or caught in an underground cave, the children of Pontypandy know help is always close at hand -- thanks to the brave and resourceful Fireman Sam.
The series originally launched in the UK and made its US debut on PBS KIDS Sprout in October 2006, and continues to air daily. The only firefighter-themed children's show, it also can be seen in over 150 territories around the world in 25 different languages.
DVD SYNOPSIS
Fireman Sam is the classic children's television series from the UK about Fireman Sam and the PontyPandy Fire Brigade, whose services are always needed. Join Fireman Sam, Firefighter Elvis Cridlington, Station Officer Basil Steele, Firefighter Penny Morris and Auxiliary Fireman Trevor Evans in these five episodes:

Neighborhood Watch
Bathtime for Dusty
Fun Run
Trouble & Squeak
Beast of PontyPandy
Fireman Sam to the Rescue DVD is recommended for ages 2-5 and is approximately 50 minutes. It is closed captioned and a Spanish track is available as a menu option.
About HIT Entertainment
HIT Entertainment, owned by private equity investment group Apax Partners, is one of the world's leading independent children's entertainment producers and rights-owners. HIT's portfolio includes properties, such as Barney™, Bob the Builder™, Thomas & Friends™, Pingu™, Fireman Sam™, Angelina Ballerina™ and Rainbow Magic™. HIT represents Fifi and the Flowertots™ and Roary the Racing Car™ in North America and Japan and acts as a worldwide representative for The Jim Henson Company's library of classic family brands and as representative for The Wiggles® in the UK. HIT also owns the Guinness World Records™ publishing and television property. Launched in 1989, HIT's lines of business span television and video production (including studios in the US and the UK), publishing, consumer products licensing and live events. With a catalogue of more than 1,000 hours of young children's programming, HIT sells its shows to more than 240 countries worldwide, in more than 40 different languages and has operations in the UK, US, Canada, Hong Kong and Japan. In 2005, the Company joined Comcast Corporation, PBS and Sesame Workshop to launch PBS KIDS SproutSM, a 24-hour digital cable channel and VOD service for preschoolers.
About Lionsgate
Lionsgate is a leading next generation filmed entertainment studio with a major presence in the production and distribution of motion pictures, television programming, home entertainment, family entertainment, video-on-demand and digitally delivered content. The Company is leveraging its content leadership and marketing expertise through a series of partnerships that include the operation of the highly successful FEARNet branded VOD and Internet horror channel with Sony and Comcast, the recent announcement of the fall 2009 launch of a new premium entertainment channel with partners Viacom, Paramount Pictures and MGM, investment in the leading young men's digital distribution platform Break.com, ownership of the premier independent television syndication company Debmar-Mercury LLC and an alliance with independent filmed entertainment production and distribution company Roadside Attractions. Lionsgate also has forged partnerships with leading content creators, owners and distributors in key territories around the world, including Televisa in the U.S. and Latin America, StudioCanal in the UK, Hoyts and Sony in Australia and Eros International in India.
The Company has generated more than $450 million at the North American theatrical box office in the past year and has released a string of hits including The Forbidden Kingdom, Tyler Perry's Meet The Browns, The Bank Job, Rambo, The Eye, Saw IV, Tyler Perry's Why Did I Get Married?, Good Luck Chuck, 3:10 To Yuma and War, most of which have opened at #1 or #2 at the box office. The Company has also forged leadership positions in television and home entertainment with the production of such critically-acclaimed television series as Weeds and Mad Men, the distribution of Tyler Perry's House of Payne, Family Feud, South Park, Trivial Pursuit and The Dead Zone, among others, and approximately 9% market share and the industry's leading box office-to-DVD conversion rate in home entertainment. Lionsgate handles a prestigious and prolific library of approximately 12,000 motion picture and television titles that is an important source of recurring revenue and serves as the foundation for the growth of the Company's core businesses. The Lionsgate brand is synonymous with entrepreneurial innovation and original, daring, quality entertainment in markets around the globe.
###