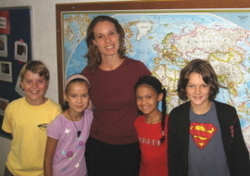 International schools love being able to find and hire qualified teachers online while teachers appreciate the opportunity to get a great job teaching overseas with minimal effort and expense
Dallas, TX (PRWEB) June 24, 2008
Educators Overseas announced today that it has completed a successful inaugural season as the first international teacher recruiting company to use live digital interviews of teachers via the internet. Educators Overseas places teachers and administrators in positions in schools around the world. Until now educators who desire to teach overseas spend their own time and money to attend recruitment fairs and be interviewed in person by international schools. With online interviews Educators Overseas is able to offer teachers a more efficient and effective way to find a job teaching abroad.
'Live' interviews replicate an in-person interview, as a teacher takes the interview online by answering prerecorded questions in front of a webcam. Interviewing over the internet is the quickest way for teachers to get their application out there and in front of schools. "International schools love being able to find and hire qualified teachers online while teachers appreciate the opportunity to get a great job teaching overseas with minimal effort and expense," says Christy Grimste, owner and CEO. Unlike many recruiting agencies Educators Overseas is unique in not charging teachers any fees. Phillip, a teacher from New York, remarks, "Finding a job through Educators Overseas has been wonderful; it's been great being able to do everything online. And now I'm looking forward to teaching in Indonesia!"
The allure of teaching overseas lies in the adventure of living in another country for a short time (usually 2 years) and experiencing another culture in a familiar school and linguistic setting, as the curriculum at international schools is taught completely in English. Teachers are also drawn to the outstanding learning environment of international schools, where class sizes are generally smaller and children are well behaved and eager to learn. Sarah, an international school teacher in Argentina, has made a career of teaching overseas and says she "loves the school experience, travel opportunities, and adventurous nature of life overseas."
For additional information about online interviews and teaching abroad or living overseas visit http://www.educatorsoverseas.com.
About Educators Overseas
Dallas based Educators Overseas is located online and is one of the premier international teacher recruiting agencies in the U.S. The company's mission is to facilitate the employment of qualified teachers and school administrators in teaching positions in international schools around the world.
Contact:
Christy Grimste
1-866-885-6665
http://www.educatorsoverseas.com
###