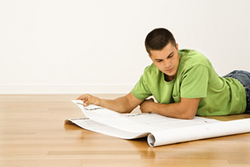 It seems unlikely that buy-to-let lenders will offer new-build mortgages in short term until there an upward trend in sector activity
Kent, UK (PRWEB) June 24, 2008
Mortgages for Business, the specialist in buy-to-let mortgages, says that the new guidelines and standards only reflect and reinforce measures that many lenders have already put in place.
There are currently only a small group of buy-to-let lenders who will lend on new-build properties and they have already put stringent measures into place to ensure the buy-to-let mortgages offered reflect the true property valuation.
Jonathan Moore, Head of Marketing at Mortgages for Business said: "There is currently an oversupply of new-build apartments, particularly in city centres, leading to concerns over property valuation and achievable rents. This has meant already cautious lenders are increasingly refusing to lend to this property type."
The CML measures are designed to restore lender and investor confidence in an area of the buy-to-let market which has been hardest hit on property valuation and availability of finance, and which has seen a significant downturn in investors' interest.
"It seems unlikely that buy-to-let lenders will offer new-build mortgages in short term until there an upward trend in sector activity," adds Jonathan.
The buy-to-let mortgage industry has demonstrated concerns around new-build valuations for some years, with the Mortgage Works withdrawing from the sector altogether in 2006. This was further reinforced by Mortgage Express, the UK's largest buy-to-let lender, stating in February this year that future remortgage offers on new-builds will be based on the lower of purchase price less discount or valuation.
Jonathan concludes: "Investors should be wary of discounts and guaranteed rents because a property should be attractive without the need for additional incentives.
"Successful portfolio landlords who are still active in the market tend to buy existing properties in areas they know well and have extensively researched. Properties in up and coming areas or where there is an underlying reason for capital and rental uplift provide the basis of a solid investment strategy. It is essential not judge the buy-to-let sector by performance of new build property."
For more information call Mortgages for Business on 0845 345 6788 or visit http://www.mortgagesforbusiness.co.uk
Notes:
Mortgages for Business are independent experts in buy-to-let mortgages managing single and multi-let property portfolios for thousands of UK investors. Its brokers have access to a large portfolio of fixed and variable interest rate mortgages from a panel of over 30 lenders and offer truly independent advice that is appropriate to investors.
Contact
Jonathan Moore, Head of Marketing
Mortgages for Business
Tel: 01732 471600 / 07810 717421
Alison Baldwin, Coast Communications
Tel: 01233 503200 / 07949 561489
###