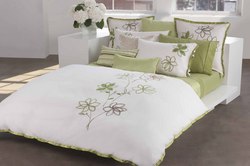 Dressing your bed should be fun, it should be like dressing yourself
New York (PRWEB) June 24, 2008
DKNY's new bedding and bath collection celebrates individuality, versatility and fun. Each piece is defined by texture and color, sophisticated in style and reflective of the DKNY spirit.
The Spring/Summer 2008 DKNY collection offers a new approach to living with color. "Dressing your bed should be fun, it should be like dressing yourself," says Donna Karan.
The energy and pulse of New York City in the summer is the starting point for the collection: color and excitement, function and fantasy, eclectic and fun. Home takes a cue from the DKNY runway, combining masculine and feminine, in a modern way to dress your home.
This season's collection features everything needed to transform the bedroom and bathroom - patterned duvet covers, sophisticated comforter sets, statement quilts, crisp sheets, decorative shams and pillows and window treatments - plush towels and bath rugs, bold shower curtains and chic decorative bath accessories.
DKNY Bedding
There are eight bedding ensembles to choose from, all featuring many design elements borrowed from fashion - embroidered floral motifs and colorful trims, metallic thread details, pleats, gathered stitching, pin tucking and ruffles - all signature details reminiscent of DKNY's runway collections.
For everyday items, DKNY features a solid sheet collection with a cuff ruffle hem in five fashion colors - white, ivory, orchid, chocolate and marine. Paired with a densely embroidered floral quilt in six fun colors - ivory, café au lait, purple, lime, taupe and white, it is a simple, fresh way to add color and texture to everyday living.
Dkny Window Treatments
Refresh your windows with DKNY's casual yet sophisticated modern curtains. DKNY's New Vintage collection is casual and simple, designed in a crepe semi-sheer fabric, light enough for everyday use in a fresh color palette of ivory, vanilla, chocolate, gold, petal, moss and ocean. For a more tailored feeling DKNY's City Chic collection - a soft, simple and sophisticated curtain available in six rich colors - ivory, chocolate, gold, taupe, lilac and purple, features 12 pleats along the top of the panel adding depth and interest to the somewhat formal collection.
DKNY Bath
Lavish towels soak it all up, whether in easy tonal palettes, stripes, solids or as decorative accents. Matte and gloss ceramic bathroom accessories in interesting shapes, textures and colors are complemented with plush bath rugs and matching shower curtains. And for the beach - DKNY's fun loving beach towels in two fashion forward designs featuring hot pink mixed with a chic leopard print or a whimsical carefree sorbet colored striped towel - both towels designed to liven up the beach or the pool this season.
A home collection that celebrates a modern lifestyle that touches not only where you live but also how you feel.
Note to Editors: This product is available exclusively at select Bed Bath & Beyond retail locations or online at bedbathandbeyond.com.
###