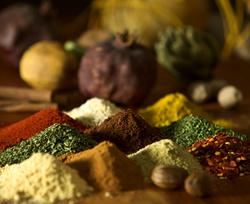 Denver, CO (PRWEB) June 24, 2008
Smith & Truslow has launched their online store for organic spices and herbs with a commitment to providing the freshest, most flavorful and nutritious ground spices and herbs, that are also clean and eco-friendly.
To uphold this core commitment to freshness and flavor, Smith & Truslow embraces the concept that "small is better". As a small-batch, organic spice company, each step of the manufacturing process is designed to retain freshness and quality:

Selecting premium seeds
Storing in temperature controlled environments
Grinding in small quantities
Packaging in small dark glass jars that protect from exposure to light and air
Distributing directly to customers
Using only organic processes
As a result, customers receive spices that are fresh, chemical- and additive-free, and filled with flavor, aroma and nutrients. All Smith & Truslow spices are certified organic by the USDA and the Colorado Department of Agriculture.
The freshly ground difference:
Historically, cooking enthusiasts have determined spice quality based upon price, packaging, brand image, or organic certification. Smith & Truslow's building awareness in the consumer marketplace for freshness as a primary differentiator in determining the quality of a ground spice.
Grinding releases essential oils that create a spice's aroma and flavor. Once released from the seed, these oils become unstable, and when exposed to air, light, heat or humidity, ground spices begin to lose their color, aroma and flavor.
Upon grinding, Smith & Truslow immediately packs their spices to protect them from exposure, so they are fresh and rich in essential oils, robust in color, aroma, and flavor. Every jar is then hand stamped with the "best by" date. But their commitment to flavor doesn't end here. Smith & Truslow offers a Fresh & Flavorful Plan for automatic delivery of refills, to ensure optimum flavor throughout the year.
Customers can create a custom box of spices, purchase à la carte, or select from creative Smith & Truslow gift boxes. Soon to be introduced, are a recipes section, the option to purchase gift certificates and a "spice buzz" section for sharing flavorful news and information.
Partners, Jean Gleason and Jenny Ross blend business and marketing skills with a passion for flavor and healthy living. Ms. Gleason manages operations from Denver, Colorado, while collaborating with Ms. Ross in Andover, Massachusetts, on creative and marketing initiatives.
###