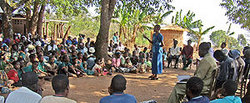 Many people, including the robbers, have come to know the Lord. We now have peace in our area as many continue to listen and give their lives to Christ.
Albuquerque, NM (PRWEB) June 24, 2008
In this small African country, God's Word is not illegal, banned or restricted by the government. Rather, only five percent of the Yao people are able to read their own language, making the power and promises of God inaccessible to nearly two million people.
A listening group in Africa discusses the BibleIn Kenya, one percent of the Kakamega people are literate. This tribe's members are also considered highly resistant to those who do not speak their language. Even people from nearby tribes who speak with a slight dialect are not received by them.
These crippling circumstances are found throughout Africa, but God's Word in audio is making a difference. Faith Comes By Hearing, the world's foremost Audio Bible ministry, has developed innovative tools that make God's Word accessible to groups struggling with illiteracy and language differences.
One of these tools is the Proclaimer, a self-powered audio player that is used in the most remote and rugged locations. The Proclaimer's embedded microchip is pre-loaded with the New Testament in the heart languages of people around the world. Indigenous believers take these life-changing Audio Bibles into their villages and towns and start listening groups. Villagers in groups as large as 300 gather around to listen and then discuss what they've heard. As God's Word goes forth, lives, families and villages are changed.
Faith Comes By Hearing QuotationMy village used to be a safe haven for robbers even though there are many churches in this place," said a Malawian woman. "The majority of us are illiterate, especially the women."
"The Audio Bible in our language has greatly helped us to understand the Word of God," she added. "Many people, including the robbers, have come to know the Lord. We now have peace in our area as many continue to listen and give their lives to Christ."
One believer, identified as Phiri, explained that her husband, "had always been a very violent man. Apart from beating me whenever he came home drunk, he was a womanizer who often slept out. When he joined in the listening of the Bible, his lifestyle changed almost immediately. He no longer beats me, and he comes home early and sober. He is now a caring husband, and we are now members of our local congregation."
A Yao recording team works on the New Testament.Faith Comes By Hearing is working to record Audio Bibles in 2,000 languages by the year 2016, which would reach 97% of the world's population.
Recently, the ministry released six new African languages, including Chitonga, Chiyao, Dogon Toroso, Lukakamega, Oluluyia and Sehwi. These languages are spoken by more than 7.6 million people, spreading across five countries (Zambia, Malawi, Mali, Kenya and Ghana), some of which are among the least developed and most unreached. For example, only 12 percent of the Dogon people in Mali are Christians, and less than two percent of all Malians are believers.
Faith Comes By Hearing is optimistic about the outreach from these new language releases.
"Our partner, the Bible Society of Malawi, has a very successful program in the other languages that we've recorded and released there," said Val Burek, a 27-year veteran of Faith Comes By Hearing. "The Bible Society there has a dynamic program, and they are strategically planning to bring God's Word in the heart language of the Yao people."
Burek said the Chiyao language launch is slated for early September.
To date, Faith Comes By Hearing has recorded the Audio Drama New Testament in 144 African languages and started scripture listening groups across the continent using innovative Audio Bible ministry tools. Audio Drama New Testaments are also scheduled for recording in another 32 African languages. Burek said these 32 New Testaments are either being recorded now or are on the schedule to be recorded this year.
Fast Facts

Zambia has more than 70 indigenous languages.*
Average family income per year in Kenya is $1,700.**
65% of the land in Mali is desert or semi-desert.**
Ghana has more than 109 people groups.**
Sources

*Ethnologue
**CIA World Factbook
Related Links

Click here to listen to a podcast from Morgan Jackson, Faith Comes By Hearing's international director.
Subscribe to the ministry's news feed. Subscribe to the ministry's news feed using RSS.
###