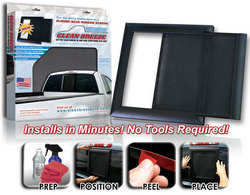 We're excited to show off our screen solution and meet current and potential partners again at this year's SEMA show
Chillicothe, MO (PRWEB) June 30, 2008 - The Clean Breeze Truck Screen® provides an inventive solution to an age-
old pick-up truck problem: How to let fresh air in without all the debris and insects the air carries in? The Clean Breeze Truck Screen® means truck owners can keep the rear window wide open. And with fuel prices reaching record levels, the Clean Breeze® means drivers can save money by cutting down on the use of the air conditioner.
"The Clean Breeze Truck Screen® provides an excellent solution for a problem plaguing all pick-up truck drivers. How do you travel with the rear window open without trash piling up through the open window," said Steven Davis, inventor and spokesperson for Clean Breeze Truck Screen®. "Even better, drivers who use the screen won't use as much fuel because they don't need the air conditioner as much."
Road rubbish quickly accumulates in a pick-up truck with an open rear slider window. It's messy, cluttering a cab with leaves and trash, making the truck look unsightly and sometimes damaging expensive components, like high-end audio equipment or GPS systems. The Clean Breeze Truck Screen® "Let The Clean Breeze In and Keep Everything Else Out!"
Made of "Paw Proof" Nylon Coated Fiberglass mesh Screen ultrasonic welded in a stylish and sturdy 16 x 15 inch frame, the Clean Breeze® has a sharp, original equipment look. Available in basic black or a variety of eye-catching designs, the screen is also customizable to display corporate logos. The company has partnered with "Bill Jordon's REAL TREE®" to offer Real Tree® patterns and designs intended for outdoor enthusiasts. It installs quickly and easily using 3M quality products, which are included in each kit and best of all No Tools Required just Prep, Peel & Press on.
Join Awareness LLC with the Clean Breeze Truck Screen® team at the 2008 Specialty Equipment Marketing Association show. Visit with the makers of the pick-up truck product in booth 39160 this November in Las Vegas. "We're excited to show off our screen solution and meet current and potential partners again at this year's SEMA show," Davis said.
Only $59.99 and available on-line at http://www.cleanbreezeusa.com or at retailers across the US, including JC Whitney, ASAP Inc; Stylin Trucks, and Chux Trux, get your Clean Breeze Truck Screen® and Keep Everything out but the Clean Breeze.
Contact
Steven Davis
Awareness, LLC
660.707.0221
cleanbreezeusa(at)grundyec.net
###