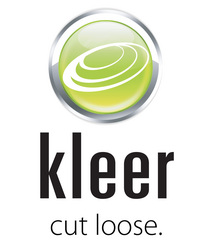 The MX W1 earphones were demonstrated at this year's CES to rave reviews
Cupertino, CA (PRWEB) June 25, 2008
Kleer™, a fabless semiconductor company focused on wireless audio applications, today announced that the Sennheiser MX W1 wireless stereo earphones are now shipping in the U.S. market. World-renowned audio specialist Sennheiser introduced the earphones at CES 2008 as the industry's first true wireless stereo earphones based on Kleer's wireless audio technology. The MX W1 is now available at Amazon.com.
"The MX W1 earphones were demonstrated at this year's CES to rave reviews," said Levent Gun, President and CEO of Kleer. "From their sleek, untethered 'twist-to-fit' ear pieces and smallest rechargeable coin cell battery in the world, to their crystal-clear uncompressed CD-quality stereo sound and extremely high interference immunity, the MX W1 represent the best that Sennheiser and Kleer can offer to consumers in wireless earphone technology and design. And now, these much-anticipated earphones are available in the U.S. market."
"We're thrilled to be the first audio vendor in the world to bring premium quality true wireless earbuds to the retail channel," said Stijn Jans, Managing Director at Sennheiser Consumer Electronics, Singapore branch. "Kleer is the technology that enabled Sennheiser to bring such a product to market."
"Our customers and partners expect Sennheiser to provide the most technologically advanced audio products in the world," said Bill Whearty, Vice President of Sales and Marketing for Sennheiser's Consumer Electronic Division in the U.S. "Our partnership with Kleer extends Sennheiser's leadership position as the choice for audiophiles with the highly anticipated
MX W1."
All Kleer-based products are fully interoperable, enabling the MX W1 earphones to receive wireless audio from any Kleer-based portable media player. Kleer's Listen In™ technology also enables up to four people, each with a set of MX W1 earphones, to listen to the same audio stream at the same time.
About Sennheiser:
The Sennheiser Group is one of the world's leading manufacturers of microphones, headphones and wireless transmission systems. A family firm established in 1945 and based in Wedemark near Hanover, Germany, the company recorded sales of over 356 million euros in 2006, 82% of which was generated abroad. Sennheiser employs over 1,800 people worldwide, around 55% of whom are in Germany. Sennheiser has manufacturing plants in Germany, Ireland and the USA and is represented worldwide by subsidiaries in France, Great Britain, Belgium, the Netherlands, Denmark (Nordic), Russia, Hong Kong, India, Singapore, Japan, Canada, Mexico and the USA, as well as through long-term trading partners in other countries. Also part of the Sennheiser Group are Georg Neumann GmbH, Berlin (studio microphones), K + H Vertriebs- und Entwicklungsgesellschaft mbH (Klein + Hummel studio monitors, installed sound) and the joint venture Sennheiser Communications A/S (headsets for PCs, offices and call centers).
About Kleer:
Kleer is a fabless semiconductor company that has developed the first wireless audio technology to combine high quality audio and robust ISM band coexistence with low power consumption to address portable, home and automotive audio markets. Unlike Bluetooth, Kleer's patented subsampling radio architecture was designed from the ground up to communicate lossless CD-quality digital stereo audio over a robust 2.4GHz radio link, while achieving 10 times the battery life of a comparable Bluetooth solution. Kleer's Audio LP technology is ideally suited for OEMs of portable audio players, iPod® and other player accessories, home audio/theater systems, earphones, headphones, and speakers. Kleer distributes its products via direct sales in North America, and a distribution channel in Korea and Japan. The Company is headquartered in Cupertino, California with product development facilities in Ottawa, Ontario. For more information, contact the company at 19925 Stevens Creek Blvd. Suite 111, Cupertino, CA, 95014, Tel: 408-973-7255, Fax: 408-973-7256, Email: info@kleer.com, or visit the company web site at http://www.kleer.com
*Apple, the Apple logo, Mac, Mac OS, Macintosh, iPod and iTunes are trademarks of Apple. All other trademarks, registered trademarks, products and/or services mentioned herein are the property of their respective owners.
For more information:
Kleer Media Contacts:
Verrecchia Group Communications
Marlene Kovac
Tel: (514) 421-1940 x148
marlene(at)vergroup.com
Susan Verrecchia
Tel: (514) 421-1940 x147
susan(at)vergroup.com
Kleer Contact:
James Elrick
Tel: (613) 287-0989 x 250
jelrick(at)kleer.com
Sennheiser Contact:
Bill Whearty
Tel: (860) 434-9190 x192
bwhearty(at)sennheiserusa.com
###