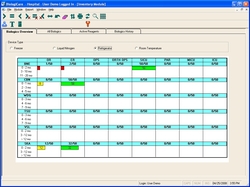 Mediware has been designing blood management systems for more than two decades
Lenexa, KS (PRWEB) June 24, 2008
Mediware Information Systems (NASD: MEDW), a provider of ClosedLoop™ clinical systems for blood and medication management, announced the launch of BiologiCare™, a software system designed specifically to track and manage transplantable materials in hospitals, surgery centers, and other healthcare facilities. BiologiCare ensures that donors, tissue vendors and tissue recipients are fully documented and enables these facilities to be fully compliant with current regulations.
The need for BiologiCare stems from increase of transplantation procedures performed in US Hospitals. These range from using bone chips and tendons in surgery, to organs, marrow and stem cells in advanced therapies. The number of transplantation cases has topped 10 million and are performed in 50% of US hospitals.
The effective tracking and tracing of transplantable materials has become a serious management problem with few viable solutions. A typical facility has a wide variety of transplantable tissues from a myriad of suppliers on hand at any given time. Each product type has different storage, processing, matching and use requirements that must be followed to ensure patient safety. BiologiCare assists healthcare facilities address these clinical and operational challenges, including the need to improve efficiencies and maintain strict regulatory compliance.
"One customer audited their tissue inventory, which was stored in boxes and refrigerators throughout the hospital, and found that they had $40,000 worth of products that had expired," said Mann. "This was a tremendous financial loss for this facility."
While the primary use of these materials is in surgery, many facilities are looking to the hospital blood bank to provide oversight. This is because of the blood bank's clinical background and experience with rigid controls used to manage similarly regulated products.
"Mediware has been designing blood management systems for more than two decades," said Mann. "We understand the safety, regulatory and reporting requirements for these types of clinical solutions and are pleased to have extended our experience and expertise to this new and exciting field. This will be a growth platform for us in 2010 and beyond and I look forward to announcing our first customers in the coming weeks."
About Mediware
Mediware delivers blood and medication management software systems that encapsulate information supporting patient therapies, reinforce patient safety practices and improve efficiencies to lower costs. Mediware's customers include prestigious hospitals, clinics, correctional institutions, blood centers and other public and private health care institutions throughout the world. For more information about Mediware products and services, visit our web site at Mediware's web site.
Certain statements in this press release may constitute "forward-looking" statements within the meaning of the Private Securities Litigation Reform Act of 1995, as the same may be amended from time to time (the "Act") and in releases made by the SEC from time to time. Such forward-looking statements are not based on historical facts and involve known and unknown risks, uncertainties and other factors disclosed in the Company's Annual Report on Form 10-K for the year ended June 30, 2007, which may cause the actual results of the Company to be materially different from any future results expressed or implied by such forward-looking statements. The Company disclaims any obligation to update its forward-looking statements.
###