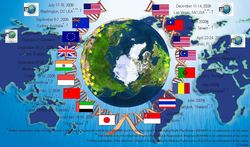 Chicago, IL (PRWEB) June 24, 2008
The American Academy of Anti-Aging Medicine (A4M; http://www.worldhealth.net) is among the fastest growing medical societies in the world today. Since its inception in 1992, the A4M has been a major force in advancing the anti-aging clinical medical specialty worldwide.
In its ongoing commitment to expand its educational and research outreach to 500,000 physicians, health practitioners, and scientists in 100 nations worldwide, the A4M has appointed two new executive officers, each of whom are recognized as accomplished physicians who have made significant and lasting contributions to the advancement of preventative medicine.
Joseph C. Maroon, M.D., joins the A4M as Senior Vice President. Dr. Maroon is a board certified Professor and Vice Chairman of Neurological Surgery at the University of Pittsburgh School of Medicine and the Heindl Scholar in Neuroscience. A renowned neurosurgeon at the University of Pittsburgh Medical Center, Dr. Maroon obtained his medical and neurosurgical training at Indiana University, Georgetown University, Oxford University in England and the University of Vermont. His clinical and research interests have been in the areas of the development of minimally invasive surgical procedures to the brain and spine, the prevention and treatment of traumatic injuries to the central nervous system, innovative approaches to pituitary and other brain tumors and more recently complimentary approaches to inflammatory diseases associated with aging.
Working with neuropsychologist, Mark Lovell, Ph.D., Dr. Maroon co-developed ImPACT(TM) (Immediate Post-Concussion Assessment and Cognitive Testing). This is the first computerized system to help determine concussion severity and the appropriate timing for return to contact sports following injury. It is now the standard of care for concussion management in the NFL, NHL, major league baseball, NASCAR and is used in over 2500 colleges and high schools in the United States. For over 20 years he has served as the neurosurgical consultant to professional and college athletes in football, baseball, golf, hockey and soccer.
Honored as one of America's Best neurosurgeons for 8 consecutive years, Dr. Maroon has published four books, and has written over 250 papers and 40 book chapters. In press is his new book entitled "The Longevity Factor: How Red Wine and Resveratrol Activate Genes for A Healthier and Longer Life," to be published by Simon and Schuster.
The A4M has appointed Nicholas A. DiNubile, M.D. to serve as Vice President. Dr. DiNubile is an Orthopaedic Surgeon specializing in Sports Medicine in private practice in Havertown, Pennsylvania. He is the author of the bestselling book, "FrameWork- Your 7 Step Program for Healthy Muscles, Bones & Joints," and also is Executive Producer and host of the award winning national PBS television special, "Your Body's FrameWork.." Dr. DiNubile serves as Orthopaedic Consultant to the Philadelphia 76ers Basketball Team and Pennsylvania Ballet. Dr. DiNubile is a Clinical Assistant Professor in the Department of Orthopaedic Surgery at the University of Pennsylvania, and Chairman of the Department of Orthopaedic Surgery at Delaware County Memorial Hospital. He has served as Special Advisor to the President's Council on Physical Fitness and Sports and is a spokesperson for the American Academy of Orthopaedic Surgeons and the American Orthopaedic Society for Sportsmedicine. In addition, he serves as an advisor to Yahoo! Health, where he also hosts "The Training Room" Blog. His website, http://www.drnick.com is a trusted source of health, fitness and sports medicine information. Dr. DiNubile has been chosen in "Best Doctors in America" and through his extensive media work is one of the most quoted doctors in America.
Remarks Robert Goldman, M.D., Ph.D., D.O., FAASP, A4M Chairman: "The A4M is comprised of 20,000-plus members from 100 nations worldwide, and our membership continues to grow by over 10% every year. The appointments of Dr. Maroon and Dr. DiNubile further reinforce the A4M's international presence as the worldwide leader in the area of advanced preventative medicine."
Adds Ronald Klatz, M.D., D.O., A4M President: "The A4M's new executive officers enable us to expand our global reach and enhance our ability to serve as a conduit to physicians, scientists, and the educated public who wish to benefit from the almost daily breakthroughs in biotechnology which promise both a greater quality as well as quantity of life."
Founded in 1992, the A4M co-sponsors the world's largest scientific conferences in the area of advanced preventative medicine. The A4M conferences have achieved what to our knowledge no other medical group in history in any specialty has accomplished, growing in three years from just two international conferences to more than 30 annual international conferences around the world on all continents in 2008, many with the support of governments, ministries of health and international sports federation organizations.
Through the American Board of Anti-Aging & Regenerative Medicine (ABAARM) and the American Board of Anti-Aging Health Practitioners (ABAAHP), the A4M credentials physicians and health personnel in the anti-aging medical specialty. The Fellowship of Anti-Aging Medicine & Regenerative Medicine and The Aesthetic Anti-Aging Fellowship are A4M co-sponsored postgraduate medical education programs that provide intensive, hands-on training from experts in these fields.
SOURCE: The American Academy of Anti-Aging Medicine (A4M), Chicago, IL
CONTACT: Catherine Cebula
PHONE: (877) 572-0608
FAX: (978) 742-9719
WEBSITE: http://www.worldhealth.net
###