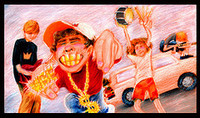 Let it Be Heard... - The Story of the Collective Sound
Chico, CA (PRWEB) June 24, 2008
"Music, Art, Educate"…the voice of youth sounds out at this summer's Element Youth Movement CoOp (YMC) Tour, a collaborative venture between Element Skateboards, The Collective Sound (TCS) Music Academy, the Boys & Girls Club of Laguna Beach, and many more talented individuals and youth organizations. Gathering to empower the next generation and bring awareness to youth health, cultural, social, and environmental issues, California's premiere youth event opens July 22nd at the OC Fairgrounds in Orange County, CA from 8:30 to 11pm, followed by shows at the Wharf in Santa Cruz, July 24th, from 5-9pm, and in San Francisco's Union Square, July 25th from 5-9pm.
Hitting each stage of the YMC Tour will be kids, age 12-18, from the non-profit, TCS Summer Rock & Roll Music Academy as they get a chance to showcase their own musical collaborations, opening for Indie headliners The Shimmies and Aubrey Debauchery. The three-city tour is the final leg in TCS's "life in a band" simulation as the first ever summer music camp to add a tour component to it's progressive rock, electronic and popular music programs.
"We've been a part of this event for four years now, and our goal, like the Boys & Girls Club and many of the other organizations that participate in YMC, is to present youth from varying socio-economic backgrounds with space and resources for creative expression and skills building. For us, we do this by giving kids an authentic experience in musical performance, recording, creating music videos, EPKs, and touring through the vehicles of rock, electronic, and popular music. The YMC Tour is a one of a kind opportunity for our students to speak to bigger audiences and venues, as well as the chance to access a variety of youth resources," says TCS Founder, Zac Smith.
Joining the tour this year, The Boys & Girls Club of Laguna Beach raises awareness on youth art and the environment with "Scratched", a collective art installation created with discarded CD's. Also, rounding out the stops will be booths highlighting issues facing the next generation, and sponsor information and product give-aways. Last year's sponsors included Surfrider, Roland, Skateboard ASC, ASEC, and Boarding for Breast Cancer.
Proceeds from the event support The Collective Sound (TCS) Music Academy. TCS promotes and empowers young musicians, developing their confidence in their creative and musical potential through programs like TCS Summer Rock & Roll Music Academy and "Creative Labs" After School Programs.
""There are a variety of excellent youth based programs out there that involve sports and other activities, yet it is peculiar that creative expression through music has few guided and funded options. It is a valid plight to offer youth a platform to conceptualize and bring to fruition their musical ideas, while teaching them the value working and communicating with others in developing an idea."
To see TCS kids perform at last year's YMC Tour Event, check out the Web Series "Let it Be Heard... - The Story of the Collective Sound" at: http://www.thecollectivesound.com/tv/
For more information on the Element Youth Movement CoOp Tour visit http://www.ymctour.com.
For more information on TCS's 2008 Summer Rock & Roll Music Academy and "Creative Labs" After School Programs visit http://www.thecollectivesound.com or email info@thecollectivesound.com
Press Contact:
Zac Smith
530-354-4045
###