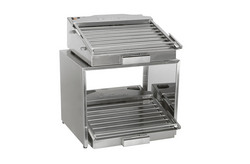 Chicago, IL (PRWEB) June 25, 2008
C. Cretors and Company, the leading designer and manufacturer of concession and foodservice equipment for over 120 years, offers a new solution for a common problem in the foodservice industry - space constraints. Frequently, products in the foodservice equipment industry are bulky and take up precious space but Cretors found a way to avoid this potential concern with its new Stackable Hot Dog Grill. Ideal for foodservice applications where counter space is scarce, including convenience stores, concession stands and foodservice equipment counters, the stacking unit doubles production capacity while occupying minimal counter space.

Stacking unit doubles production, but occupies minimal counter space
Available to accommodate all Cretors Hot Dog Grills, the stacking unit integrates the hot dog grills into a single unit. Cretors Stackable Hot Dog Grill increases cooking capacity by allowing two hot dog grills to be stacked in the space of one. As opposed to other hot dog grills which expand horizontally across a counter, the unique, stainless steel exclusive stacking feature from Cretors allows users to expand grilling surfaces vertically, saving valuable room.
Hot dog grill's stacking accessory saves space for small shops and counters
The Cretors Hot Dog Grill is equipped with an innovative, patent pending, center drive shaft design that reduces strain on gears and ensures a longer motor life. Cretors products are durable and built to last which can be very handy in the foodservice equipment industry. Equipped with a stainless steel cooking surface and an aluminum heating plate underneath, meat is evenly heated to the desired serving temperature. Other features include a moving angled grill, which allows complete hot dog rotation on the heat plate, and a removable grill and grease trap for easy cleaning of grill, trap and deck.
Cretors Stackable Hot Dog Grill is also available with the Cretors Bun Warmer. Designed to hold 30 hot dog or hamburger buns, the Cretors Bun Warmer is suitable for either dry or humidified applications.
About C. Cretors and Company
Established in 1885, C. Cretors and Company is the leading designer and manufacturer of food processing and concession equipment providing a complete range of innovative foodservice solutions to companies around the world. A renowned industry innovator, in 1885 Cretors introduced the first patented steam driven popcorn machine that popped corn in oil. Since 1967, Cretors' Food Processing Division has offered a patented continuous production line featuring a hot air fluidized bed oven for high-volume popcorn production.
Over the company's long and storied history, its Foodservice Division offerings have expanded to include machines that produce and/or dispense cotton candy, nachos, caramel corn, and hot dogs, topping and dispensing equipment as well as warming and display cabinets. Today, Cretors continues to reinvest in research and development to ensure constant improvements in everything from equipment manufacture to customer responsiveness to distributor network communications.
For more information about Cretors' services and products, please visit http://www.cretors.com.
###