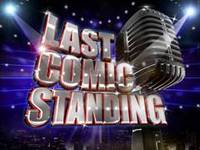 We think it will be a smash, drawing audiences from Raleigh to Greensboro and all the communities in between.
Durham, NC (PRWEB) June 24, 2008
Enjoy an evening of great stand-up comedy with the finalists from the popular NBC show "Last Comic Standing" as the official tour comes to the Durham Performing Arts Center on Sunday, January 4, 2009. Experience an unforgettable night of laughter. Tickets are now on sale for $25-45 by calling the venue box office at 919-680-ARTS (2787) or purchase online. Tickets also are available at all Ticketmaster outlets, including Macy's and Lowes Foods.
Currently airing on NBC's Thursday comedy night lineup, don't miss the sixth season of Emmy-nominated "Last Comic Standing," hosted by Bill Bellamy ("Def Comedy Jam," "Any Given Sunday").
"The show is a longtime hit on NBC, and we're excited to bring this level of entertainment to our region," said Bob Klaus, general manager of the Durham Performing Arts Center. "We think it will be a smash, drawing audiences from Raleigh to Greensboro and all the communities in between."
The lineup for the comedy tour will depend on who makes it to the finals for this season. For the first time on the series, a parade of NBC comedy stars from past and present shows will join "Last Comic Standing" as talent scouts.
Helping "find the funny" are talent scouts George Wendt and John Ratzenberger ("Cheers"); Richard Belzer ("Law & Order: SVU"); Angela Kinsey, Oscar Nunez, Brian Baumgartner and Kate Flannery ("The Office"); Dave Foley ("Thank God You're Here!" "Newsradio"); Neil Flynn ("Scrubs"); Steve Schirripa ("The Tonight Show With Jay Leno"); Kathy Najimy ("Veronica's Closet") and French Stewart ("Third Rock From the Sun").
Josh Gomez ("Chuck"), Lonny Ross and Keith Powell ("30 Rock") also serve as talent scouts, along with Richard Kind and Fred Willard ("Mad About You") and Alfonso Ribeiro ("The Fresh Prince of Bel-Air").
As the competition progresses, viewers of the show will help select the "Last Comic Standing," who will earn a $250,000 grand prize, including an exclusive talent deal with NBC, a new Honda, and a starring appearance in "Jubilee!" at Bally's Las Vegas.
The Durham Performing Arts Center is currently under construction downtown in American Tobacco, adjacent to the Durham Bulls Athletic Park. On track for completion in December 2008, the 2,800 seat theatre is home to Broadway Carolina, an authentic Broadway experience direct-from-New York, while also featuring top comedy shows, concerts and performances booked in partnership between Professional Facilities Management (known industry-wide as PFM) and the Nederlander Organization. This spectacular cultural landmark will draw audiences to more than 100 shows each year with convenient access off I-40, I-540 and I-85, and more than 3,500 parking spaces within walking distance. Tickets are available via phone at 919.680.2787 and online at http://www.DPACnc.com.
###