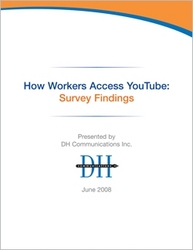 How Workers Access YouTube: Survey Findings
Plaistow, NH (PRWEB) June 26, 2008
In a surprising survey released today by DH Communications, Inc., close to two-thirds of corporate employees who responded to the survey have access to YouTube while on the job. Of those who do access YouTube while at work, 43.3 percent use YouTube for both business and pleasure. The survey results shed light on the fact that while companies do block access to YouTube for various reasons, the majority of companies do not.
DH Communications has made the report available at the company's MarCom Writer blog. The complementary report, "How Workers Access YouTube: Survey Findings," can be downloaded without having to register.
According to Dianna Huff, President of DH Communications, the company that conducted the survey and published the survey findings, the survey results were somewhat surprising. "I had read in the Wall Street Journal, and had heard elsewhere, that businesses were blocking access to social media sites, such as YouTube, due to bandwidth and productivity issues," states Huff. "I developed the survey to test this assumption. I expected the number of 'blocked companies' to be higher -- and was surprised at the number of respondents who watch video while on the job."
Overall, the survey results revealed that while 36.6 percent of companies block access to YouTube, many do not, with 63.3 percent of survey respondents indicating they watch YouTube videos while at work. While over a third of respondents stated that their companies restrict access to YouTube for various reasons, these respondents also indicated that they do visit YouTube on their own time. In fact, 83.3 percent of all survey respondents access YouTube during non-work hours.
"The one piece of data that really caught my eye is that over three quarters of the respondents stated they watch video during non-working hours," says Huff. "This has huge implications for B2B marketers. People aren't in 'work mode' when perusing YouTube on their 'off time,' so they may not be researching business related video. In addition, because companies do block access to YouTube, a company's B2B video campaign will not be seen by a percentage of the target audience. For both reasons, B2B marketers must use integrated tactics, such as embedding links to video in e-newsletters, blogs, press releases, and even direct mail, to ensure a message is seen and heard by people -- whether they are on or off the clock."
DH Communications, Inc. conducted the survey in June 2008. All survey responses were anonymous. Respondents indicated they work at companies ranging from one-person consultancies to global enterprises of 5,000 or more. A PDF copy of, "How Workers Access YouTube: Survey Findings," can be downloaded from Huff's blog at: http://marcom-writer-blog.com/?p=252
About DH Communications, Inc.
DH Communications offers B2B marketing communications consulting and copywriting. Dianna Huff, who is the company's president, has won six awards for her work; she also publishes the MarCom Writer Blog. Find out more about DH Communications and Dianna Huff at Huff's Website or by calling 603-382-8093.
###