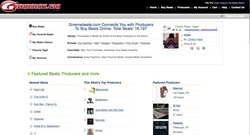 Charlotte, NC (PRWEB) June 25, 2008
Givemebeats.com has just revamped its site, and it's the top destination for artists to buy beats (music instrumentals) online, and producers to sell beats. Givemebeats.com categorizes itself as a niche social network for those who are interested in beats, and offers the same features as other social networks, such as: create profile, make friends, add photos, send messages, send comments, friends update etc. But Givemebeats.com unique features are focused on the buying and the selling beats online.
Givemebeats.com allows artists to browse, listen and purchase beats produced by some of the most talented producers in the world. It hosts a variety of studio-ready, high-quality, professional beats in multiple genres: Hip-Hop, Rap, R&B, Reggae, Electronica, Dirty South, Freestyle, and more. All the beats are reviewed before they become available for sale, and can be download instantly after purchase, which is convenient for artists who want to run to the studio and record a song real quick, or for other purposes.
Givemebeats.com gives producers a unique platform to sell their beats online. There are no limitations on how many beats a producer can upload, this allow producers to create a huge library of beats, while keeping track on their sales with tools like Sales History, Store Statistics, and more. Also Givemebeats.com has a promotion program for producers willing to attract more people to their beats, to eventually increase their sales potential.
Some other unique Givemebeats.com's features :

Design: The site is cleanly designed to allow a better navigation, and ease of use.
History: The site temporarily records all the beats that you played in case you want to go back to beats that were played recently. It's really useful, because you may lose track after hearing over 100 beats.
Favorite: Save beats that you like in your favorites for a later visit or purchase.
Tags: Help find beats under a certain category, famous artists name or anything set by the producers.
Producer's Activities: Automatically get notified when a producer has posted a new beat.
Producer's Directory: Display all producers by location.
Beat Box Store: Allow producers to setup their store to sell beats, and upload an unlimited quantity of beats.
Re-Arrange Beats: Producers can re-arrange beats in their store to allow a greater exposure to their hottest beats.
Analytics: Show complete statistics of a Beat Box Store, with visitors, sales tracking, highest and lowest day, new vs returning customers and more.
Beat Box Player: A widget to add on any sites, or social networks to play the beats that producers have for sale. Also, visitors can purchase beats from the player.
And a lot more features.
Site: http://www.Givemebeats.com/
About Givemebeats.com:
Givemebeats.com was founded by Mardix. The idea began as a hobby and has blossomed into a robust, singular network to buy and sell beats online. Mardix currently holds the CEO title, and the website is based and being operated in Charlotte,NC by Givemebeats.com,LLC. Givemebeats.com is self-funded, and is actually seeking funding from investors to broaden its reach and to further develop appealing features on the site.
###