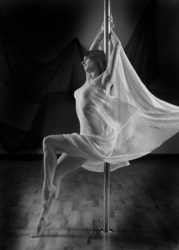 Ironically, no amount of effort, toning, or reconstruction to disguise physical 'flaws' ever completely obliterates women's needs to try to become more attractive.
Denver, CO (PRWEB) June 25, 2008
What's the draw to TranZenDance Studio?
A new integrative form of pole dancing, where there are no mirrors and only dim lighting, is setting the stage for powerful transformative experiences for women, enhancing the mind, body and spirit, and gaining local and national attention.
Dr. Lori A. Huett, proprietor and lead instructor, describes the therapeutic power of the studio's approach: "Pole dancing provides a way for women to experience their bodies from the inside out. This is opposite of how most women experience their bodies from external cues, whether through mirror reflections, how a particular size of jeans fits, or in comparing themselves to airbrushed images in magazines." Women learn to trust the wisdom of their bodies vis a vis the dance.
Pole dance classes at TranZenDance Studio reach far beyond the basics of pole dance/fitness. Dr. Huett's concept sees the experience as integrative therapy, producing the kind of positive changes that occur in other "alternative" or holistic interventions that simultaneously target multiple systems (e.g., physiology, cognition, and emotion).
According to Dr. Huett, young girls' experiences of their bodies and feminine identities are commonly colored by disgust, embarrassment, or shame, deeply internalized precepts that lie at the root of their discomfort with being in their own skin. "Ironically, no amount of effort, toning, or reconstruction to disguise physical 'flaws' ever completely obliterates women's needs to try to become more attractive." Rarely does a woman trust her internal sense of herself, intuition, or visceral inclinations.
Dr. Huett's pole dance classes extend beyond the purview of traditional "mind," interventions or psychotherapies. "Since our experiences live not just in our minds but in our bodies, we must engage all systems involved in conditioning, learning and memory if we want to produce long-lasting changes in how we feel, think and act."
She explains how "traditional psychotherapy addresses the entity of the 'mind' via verbal discourse." Dr. Huett states, "Most individuals seeking therapy, in one form or another, are really searching for a new experience of themselves." She believes pole dancing in a private studio setting engages the individual on biopsychosocial levels and, therefore, serves as a catalyst for positive change.
Dr. Huett also points to the focus of this kind of movement: women's hips.
"If psyche lives anywhere in women it is in the pelvis and hips. As women in this culture, we are often unconsciously guided to suppress our femininity, including our sensuality. This dance form, which heavily relies on circular movements of the hips, facilitates movement beyond the internalized sense of shame that women hold in the pelvis, thereby encouraging comfort with the expression of sensuality and feminine identity, also stripping any deep sense of shame held in the body."
To learn more about the TranZenDance Studio approach, visit TranZenDanceStudio.com.
About Dr. Lori A. Huett and TranZenDance Studio:
Proprietor and Lead Instructor at TranZenDance Studio in Denver, Colorado, Dr. Lori A. Huett holds a Doctorate of Clinical Psychology from the University of Denver and Clinical Residency from UCLA. She is also a former NYC Joffrey Ballet Apprentice, who brings to her current pole dance studio clients more than 22 years of dance experience that includes a company tour in Russia and Scandinavia.
###