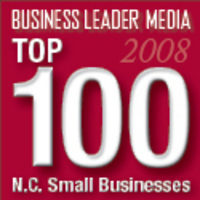 The honor of being named one of the top 22 small businesses in North Carolina is simply a testament to my father's belief that if you surround yourself with good people, they'll push you to the top
Raleigh, NC (PRWEB) June 26, 2008
Business Leader Media is proud to reveal 2008's Top 100 Small Businesses in North Carolina.
The only car dealership, new or used, named to this prestigious list was Winston-Salem based Frank Myers Auto Maxx. They were recognized as the number 22 small business in the entire state. The trio of independent dealerships, owned by Certified Master Dealer Tracy Myers, realized an astonishing 1 year growth of 35% and a 5 year growth of a whopping 141%. What makes these numbers so stunning is that the used car industry as a whole is in a downward spiral, with no immediate recovery in site.
"The honor of being named one of the top 22 small businesses in North Carolina is simply a testament to my father's belief that if you surround yourself with good people, they'll push you to the top," said Tracy Myers. "If anyone deserves the credit for this recognition, it is my incredible staff because they continue to do just that...push me to the top."
Tracy continued, "It is unfortunate that the automotive industry, used cars in particular, has such a bad reputation with consumers. I hope this honor will help folks understand that the majority of dealers are good people trying to make an honest living. I am a Christian Business Owner and my goal is to run my dealership by the Book. As an industry leader, I have declared war against unscrupulous car dealers, new and used, and I promise to clear the air and settle the score by exposing the lies, scams and cons that have costs consumers billions of dollars."
The 2008 winners were ranked based on revenue growth, business achievement and community involvement and were chosen from 367 finalists. The rankings and profiles of the companies will appear in the June issue of Triad Business Leader magazine and online at http://www.TriadNewsWire.com.
About Business Leader Media:
Business Leader Media is the #1 way to own this market. Founded in 1989, Business Leader's publications, Web sites and events provide critical market intelligence to CEOs and business owners. The company publishes monthly business magazines in the Triad, Triangle, Charlotte and South Florida, as well as nationally through newsstand distribution.
About Frank Myers Auto Maxx:
Tracy Myers is the owner of Frank Myers Auto Maxx & lives in Lewisville, North Carolina with his wife Lorna and their 2 children. Tracy has spent the past 15+ years trying to change the landscape of the car business and the bruised reputation of car salespeople all over the country. Tracy is a Certified Master Dealer, an NIADA Eagle Award Winner and was named the National Quality Dealer of the Year by the NIADA. He was recently recognized as on of the Top 28 Independent Automotive Retailers in the United States by Auto Dealer Monthly Magazine & one of the Top 3 dealerships to work for in the country by The Dealer Business. Tracy is also the author of the book "Car Buying Secrets Exposed: The Dirty Little Secrets of a Used Car Dealer", available at Amazon.com and at any Frank Myers Auto Maxx location. For more information on Tracy or Frank Myers Auto Maxx, visit the official blog of Frank Myers Auto Maxx
###