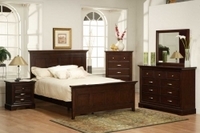 We are excited to expand our offerings on Shopping.com
East Brunswick, NJ (Vocus) June 25, 2008
Homelement.com announced today of their newest affiliation with Shopping.com. By partnering with the shopping comparison site, Homelement believes it can reach out to more customers and provide them with better options and values.
Shopping.com is the all-in-one shopping comparison engines enabling customers to compare detailed pricing information from various stores. Shopping.com also provides additional information, such as product reviews, which helps customers to make better purchase decision.
Homelement lists the product offerings in various categories under Home and Garden. The list includes wide selection of home furniture from bedroom set, dining set, home entertainment, and much more.
"We are excited to expand our offerings on Shopping.com" Says Joice Tan, Operations Manager of Homelement.com, "We are confident that we can provide better selection and values to the shoppers."
If you are interested in becoming an affiliate with Homelement.com, please visit http://www.homelement.com for further information.
About Homelement.com
Homelement is a leading retail supplier of stylish and elegant home furnishings including bedroom furniture, dining, living room, and much more. With years of furniture industry experience, Homelement has recently expanded their operation to a web-based platform that makes browsing and purchasing top-of-the-line furniture easier than ever. Visit http://www.homelement.com for more information.
About Shopping.com
Shopping.com provides easy-to-use search tools along with opinions from the unbiased Epinions community.
###