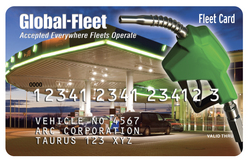 We save fleet businesses money
Bonita Springs, FL (PRWEB) June 25, 2008
Fleet businesses of all sizes are celebrating Independence Day by declaring Financial Freedom from high gas and fuel prices. For twenty years, Global-Fleet has consistently demonstrated the industry-leading commitment to controlling and optimizing fleet fuel expenses. Today, fleet businesses that use the Global-Fleet Fuel Card are saving as much as 15% or more on their fuel budget.
"We save fleet businesses money," said Keith Stone, Global Fleet President. "There's not a more succinct way to say it. When our clients start using the Global-Fleet Fuel Card and all of the features that come with it, their bottom line is affected immediately."
"The Fourth of July is always a very special holiday," continued Stone, CSI President. "It is a time to celebrate. This year, everyone is focused on the price of gas. Market conditions have forced fleet managers to spend too much time thinking about fuel. The Global-Fleet Fuel Card provides the freedom that comes with lowering fuel expenses and allows fleet managers to focus on their business."
What sets the Global-Fleet Fuel Card apart is a consistently growing set of comprehensive card controls and savings features. "We never stop looking for new ways to help our clients save," Stone said. "Whether it is using our leading online low-cost fuel merchant finder, or accessing online monitoring and purchase adjustments, we research the latest technology and leverage program benefits we know will save our clients money."
Global-Fleet's continual research and development to find fleet businesses new ways to save on fuel and gas expenses, is exemplified by their new Low-Price Gas Finder that draws upon the thousands of actual daily transactions at more than 180,000 gas stations across the Nation, to provide clients the most complete data available.
With gas prices skyrocketing, today's market conditions demand fleet businesses find savings whenever and however possible. The Global-Fleet Fuel Card brings maximum gas and fuel savings to every fleet business with their complete fuel management system. There has never been a more important time for fleet managers to learn about how the Global-Fleet Fuel Card saves businesses money on gas and fuel. The time has come for businesses to celebrate Independence from rising gas and fuel prices.
To learn more about the Global-Fleet Fuel Card, visit http://www.Global-Fleet.com.
About CSI Enterprises, Inc:
CSI Enterprises Inc. provides a specific line of controlled financial payment products including business fleet fueling/maintenance payment cards, a corporate virtual payment MasterCard® and card solutions for corporate purchasing, travel and entertainment spending. Today CSI and its products operate in all fifty states including Canada, Mexico and Caribbean with operating subsidiaries involved in municipal tax reclamation, venture capital and real estate development activities nationwide. Since 1988, CSI Enterprises Inc. was the first and largest U.S. organization to have a successful corporate asset management and payment network throughout the U.S. and Latin America.
###