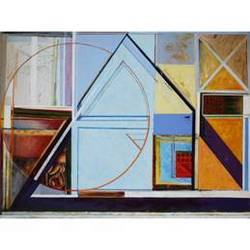 We're thrilled to offer our customers a growing selection of fine art, and we're excited about the caliber of items that are being posted
New York, NY (PRWEB) June 26, 2008
Serving casual buyers and serious collectors alike, Bond & Bowery (http://www.bondandbowery.com) is enhancing its offerings of fine art through the virtual showrooms of art galleries as well as traditional antiques dealers. Bond & Bowery provides consumers with an easy-to-navigate resource, enabling consumers to search by artist, price, medium, period, subject and region and helping them zero in on exactly the right piece for their collection.
"We're thrilled to offer our customers a growing selection of fine art, and we're excited about the caliber of items that are being posted," said Bond & Bowery co-founder Ben Spaisman. "Whether a buyer is seeking a mid-century modern chair or an Impressionist painting, Bond & Bowery aims to be a comprehensive destination for unique furnishings and décor."
"In the current over-heated art market, a number of these pieces represent terrific value," added Bond & Bowery co-founder George Evans. "Buyers who visit art galleries or antiques dealers can find fantastic works of art that haven't been marked up by the auction cycles."
Current fine art pieces at Bond & Bowery include:
Important 19th C. American Primitive Painting
Artist: unsigned
Country: USA
Work Date/Period: early 19th Century
Description: Expansive primitive painting of an American Harbor showing daily activities of town. Looks to be Boston Harbor. The steamships are early steamships with masts. The painting almost tells a story with everything going on in it.
Signature/Other Markings: none
Dimensions:
67"W X 53"H
170.25cm W X 134.5cm H
Medium: Oil on Canvas
Condition: Good, painting has been relined and a few small spots of inpainting
Number of items: 1
Provenance: Came out of a local collection.
Artist: Richard Wengenroth
Country: USA
Work Date/Period: 1978-1980
Signature/Other Markings: signed R. Wengenroth on the stretcher
Dimensions:
7'0"W X 72"H
213.25cm W X 183cm H
Medium: mixed media on canvas
Condition: Excellent
Number of items: 1
Old Spanish House St. Augustine Florida
Artist: William Staples Drown
Country: United States
Work Date/Period: 19th Century
Description: William Staples Drown, American, 1856-1915, Old Spanish House, St. Augustine, Florida. Oil on canvas.
Signature/Other Markings: Signed lower right: W. Staples Drown
Dimensions:
11.75"W X 9"H
29.75cm W X 22.75cm H
Medium: Oil On Canvas
Condition: Very Good
Number of items: 1
About Bond & Bowery
Launched in August 2007, Bond & Bowery provides the antiques and fine art businesses with a one-stop online destination for the best pieces and art works from all periods and styles. Integrating the latest technology with decades of best practices, Bond & Bowery offers buyers and sellers unparalleled access to the global marketplace. Bond & Bowery is the brainchild of antique dealers George Evans and Elliot Spaisman and seasoned marketer and business executive Ben Spaisman, with backing from a group of industry professionals.
To learn more, please contact Zachary Hastings Hooper at 202.862.4355 or Caroline Hemingway at 212.255.8455.
# # #