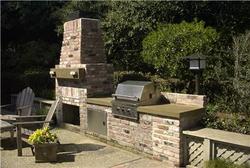 People want to have something they can show off, not something that mimics what their friends or neighbors have
Yucaipa, CA (PRWEB) June 27, 2008
With a season of outdoor entertaining upon us, it's no wonder that families across the country are exploring more ways to update their outdoor living and cooking areas. Growing Internet search trends show that homeowners and designers are focusing their sights on concrete as a material of choice for creating custom outdoor countertops.
The Concrete Network has put together a multitude of articles on why concrete counters are so popular, how to take advantage of their versatility, what color options are available, and insights into how they're designed, created and built. Because of these factors and many more, outdoor countertops made of concrete are proving to be the best choice in outdoor kitchen design.
"People want to have something they can show off, not something that mimics what their friends or neighbors have," explains Terry Stogner of Concrete Interiors in Calif. "Concrete is the only material that allows you to customize just about every aspect of it, including color, shape, thickness, and texture."
Concrete's irresistible appeal can be attributed to its look of distinction, its natural qualities, and superior craftsmanship. Concrete can be formed in any shape or size, and can be colored to match nearly any hue. Intricate edge details, inlays and backsplashes can also be incorporated to create a completely personalized workspace. Concrete is also known to stand up to a range of weather conditions found across the country, from icy to wet conditions and windy to dry climates--concrete is perfect for outdoor entertaining.
With the availability of numerous design options, the task of choosing the perfect counter design can get complicated. Start by researching other concrete countertop installations in magazines or visit an online photo gallery for hundreds of examples.
Read more about concrete.
Established in 1999, The Concrete Network's purpose is to educate consumers, builders, and contractors on popular decorative techniques and applications. These include stamped concrete, stained concrete floors, concrete countertops, polished concrete, and much more. In 2007 The Concrete Network Website had over 11 million visitors researching decorative concrete.
The site excels at connecting buyers with local contractors in their area through its Find a Concrete Contractor service. The service provides visitors with a list of decorative concrete contractors throughout the U.S. and Canada, and is fully searchable by 23 types of decorative concrete work and 202 regional areas throughout North America.
Attached photos courtesy of Concrete Interiors.
###