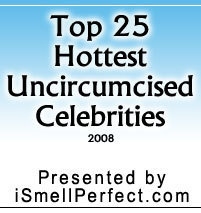 Ever since the very successful launch of NodorO™ (1/4/08), I have noticed a negative connotation associated with uncircumcised men in the media and general population. It is often being referred to as unappealing, ugly and
Miami, FL (PRWEB) June 26, 2008
Uncircumcised men have been getting a bad reputation and generally deemed "uncool" and "unnattractive". The President/CEO and the creator of NodorO™ disagrees and plans on changing that, by releasing NodorO's Top 25 hottest uncircumcised celebrities on ismellperfect.com. (NodorO™ is a safe and effective OTC medicated cream developed in accordance with an FDA approved monograph; The brand was specifically created to remove and prevent MGO (Male Genital Odors).
MGO is more likely to occur to men who are not circumcised, due to the moist environment between the foreskin and the gland, which is a favorable ground for development of fungi cells. NodorO™ targets the micro-fungi called tinea corporis.
"Ever since the very successful launch of NodorO™ (1/4/08), I have noticed a negative connotation associated with uncircumcised men in the media and general population. It is often being referred to as unappealing, ugly and "uncool," says Adams.
"As in any situation that involves displaying our bodies to our partner, it is up to the individual to present oneself in the most appealing state possible. It is the same with women who chooses to wear make-up to appear more attractive. We (uncircumcised men) have the option to retract the foreskin prior to being in front of our partner, to appear the most appealing possible. The truth is that when the foreskin is retracted, the visual appeal looks exactly the same as men who are circumcised," says Adams.
"As far as the cleanliness factor is concern, one must simply practice good personal hygiene, and for those extra little odors, we now have NodorO™ to take care of that problem," says Adams.
Adams suffered of MGO since he was a teenager, only until he realized his discovery. He personally used the product and solved his MGO problem for several years, which inspired him to share his discovery with the world and created NodorO™.
The following list is being released alongside with NodorO's promotional efforts, to demonstrate that being intact is not so "uncool" after all.
We have compiled the following list. Here's our 2008 Top 25 Hottest Uncircumcised Celebrities.*
#25 Fred Norris
#24 James Earl Jones
#23 Nick Nolte
#22 Bernie Mac
#21 Macaulay Culkin
#20 William Hurt
#19 Willem Dafoe
#18 Prince
#17 Don Johnson
#16 John Leguizamo
#15 Nicolas Cage
#14 Emilio Estevez
#13 Dane Cook
#12 Luke Perry
#11 Joaquin Phoenix
#10 Charlie Sheen
#9 Mark-Paul Gosselaar
#8 Keanu Reeves
#7 Ricky Martin
#6 Paul Walker
#5 Jesse Metcalfe
#4 Tito Ortiz
#3 Mario López
#2 Leonardo DiCaprio
#1 Will Smith
NodorO™ is proudly manufactured in the United-States.
NodorO™ is available for ordering on our website at: ismellperfect.com
OR
You may call us with questions on our product at 1-877-8-NODORO.
Synerfied Healthcare is a division of Synerfied Capital Inc. a company that specializes in diversified investments.
Media Contact:
Synerfied Healthcare
Media Contact
10 SW South River Dr.
Suite# 1207
Miami, FL
305.325.1522

###