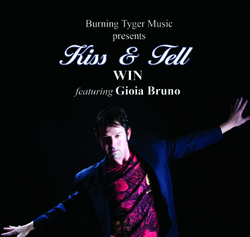 Like many Bryan Ferry fans around the world, I've always adored 'Kiss & Tell' for its deep melodic darkness and bold commentary on money, power and prestige. Performing 'Kiss & Tell' is like taking my audience on a voyage and bringing them into another dimension
Hollywood, CA (PRWEB) June 26, 2008
In the game of dirty money sometimes all bets are off, but in the game of 'Kiss & Tell' it's 'all in' for WIN! San Francisco's own Win Marcinak has taken on the daunting task of covering one of pop icon Bryan Ferry's most famous tunes, 'Kiss & Tell,' now impacting the airwaves. Ferry is one of the most treasured British acts to come out of the eighties music scene and is still highly revered worldwide. With a vocal that successfully tackles the thought-provoking subtleties and nuances 'Kiss & Tell' is meant to convey, WIN delivers, selling the song's story with a modern telling. Adding to the track's exposition and drama, 'Kiss & Tell' also features vocal powerhouse Exposé diva Gioia Bruno.
"Like many Bryan Ferry fans around the world, I've always adored 'Kiss & Tell' for its deep melodic darkness and bold commentary on money, power and prestige. Performing 'Kiss & Tell' is like taking my audience on a voyage and bringing them into another dimension," stated WIN. "To be able to record this single with the support of so many talented musicians, especially Gioia Bruno, is a dream come true. I look forward to putting together my second album over the coming months and experimenting more with my own original works and collaborations."
Taking an unexpected turn, WIN's 'Kiss & Tell' vocal runs into a head-on collision with Gioia Bruno's new sultry rendition of 'Money Talks (Dirty Cash),' resulting in a steamy-hot tête-à-tête. Masterfully woven together by producers Josh Harris, Jake Benson and The Perry Twins, the two storytellers' dynamic voices unleash their lyrics upon each other in a one-of-a-kind transformational experience. The colliding tracks create a unique musical sensation that is undeniably compelling and provocative.
"I was excited to do background vocals and ad lib for WIN on 'Kiss & Tell.' The project took on a fascinating new direction when I was approached to sing 'Money Talks (Dirty Cash)' so it could be meshed with the track," states Gioia Bruno. "I'll admit it was a thrill to sing it as I have always loved the Adventures of Stevie V. version. Approaching the vocal in my lower register gave it a much sexier vibe than the original. Personally, I've never been all about the money, like the title suggests, so my performance on the track is an irreverent interpretation."
Currently making an impact on national and international mainstream radio, with servicing by Radio Express, Promo Only and New Music Weekly, the original pop version is available for download and purchase at Perfectbeat.com and will soon be available online at iTunes, Masterbeat.com, Napster, Rhapsody, eMusic, and Amazon MP3 and Beatport.com.
Breaking out on dance floors in July, the 'Kiss & Tell' collision remix package is an electric hit-and-run musical escapade with heart pounding unique productions from Warren Rigg, The Perry Twins, Josh Harris, Dena Cucci, Jake Benson, and Mark Picchiotti.
About WIN:
WIN is a songwriter, vocalist and dancer emanating from the edgy San Francisco arts scene. His vocal styling encapsulates the robustness of a warm and sturdy Broadway technique crashed with a Euro-pop approach that resonates far beyond the mundane boy band gimmicky sound of today. WIN has been performing throughout the country for the last two decades. He launched Burning Tyger Music and releases his own productions. In 2004, Win released his full-length CD titled 'In My Heart,' which spawned several dance hits including the title track, 'It's A Dream' and the unforgettable cover of Kajagoogoo's 'Too Shy.' The songs were licensed by DMX Music and immediately turned into staples at a variety of venues and clubs around the world. WIN is also currently featured on Ultra's 'Mad About the Boy' compilation. This summer, WIN unveils his new single 'Kiss & Tell' - a reinvention of the pop rock classic Bryan Ferry tune. Making a special featured appearance on the package will be the voice of Exposé diva Gioia Bruno. The hot track will be hitting radio and clubs in the US and the UK with a sundry of dynamic mixes by Warren Rigg, Mark Picchiotti, Josh Harris, Dena Cucci, The Perry Twins and Jake Benson. Everyone's in it to WIN it! With WIN's vibrant recording and performing career burgeoning, he shows no signs of slowing down. WIN just keeps on winning! For more information on WIN, please visit http://www.myspace.com/winmarcinak.
About Gioia Bruno:
Gioia Bruno (Pronounced Joy-ah!) made her mark on the music scene as a member of the chartbusting Arista Records pop group Exposé. Exposé released two platinum selling albums (Exposure and What You Don't Know) and ten Billboard 'top-ten' hit singles including 'Come Go With Me,' 'Point Of No Return,' 'Let Me Be The One,' 'What You Don't Know,' 'Tell Me Why' and Billboards #1 hit single 'Seasons Change.' Gioia also made many appearances on such national television shows as 'David Letterman,' 'Solid Gold,' 'Arsenio Hall,' 'The Grammy Awards' (presenter), 'Dick Clark's Rockin' New Year's Eve,' as well as MTV and VH1 Specials. After Exposé Gioia became the lead singer in the rock band WET. In 2000, Gioia left WET to focus on developing her solo career. Her first solo release, 'Free To Be,' an underground club anthem, pumped its way onto the billboard dance charts. Gioia, one of the hottest performers on the dance club scene today, headlines gay pride events, circuit parties and dance clubs around the world. Gioia had amazing success with her Billboard 'top-ten' dance club single 'From the Inside,' from the 'Queer As Folk Season 3' soundtrack. In 2005, Gioia released her full-length solo album 'Expose This' on KOCH Records to rave reviews. The CD features Billboard dance chart hit 'Be Mine,' 'Incredible' and club favorite 'I Was Made For Loving You.' Gioia's 'Wreckin' My Nerves,' produced by Chris Cox, was featured on the 'White Party USA Vol. 2.' CD and was charted by some of the most influential DJs, as one of the top-ten dance club hits of 2004. The sexy songstress recently released 'Why Did You Call Me Again' followed by the club anthem 'Your Love is Lifting Me Higher' in Fall 2007. The tracks both currently play internationally in clubs, radio, TV and film. Gioia, presently working on her follow-up solo album, has reunited with the original members of Exposé for a highly successful national stadium event tour. For more information please visit: http://www.gioiabruno.com or http://www.myspace.com/gioiab.
For Bookings and Media Inquiries Please Contact:
Jim Strzalkowski
Media Giants
Office: (818) 817-7718
Cell: (323) 363-5094
jimstraz@aol.com
Regarding Mainstream Radio Promotion Please Contact:
Jennifer Lyneis
V.P. Record Promotion
M. Loring Communications
(818) 230-7781 :Ph
(818) 292-8996 :fax
Regarding Club Play Dance Music Promotion Please Contact:
Brad Mason LeBeau
PRO MOTION and LIFT +
Strategic Brand Partners
212 274 9800 t 9899 f
###