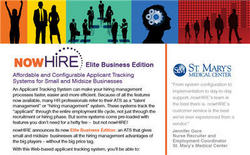 We're increasingly talking to companies that know they need to automate their recruiting and hiring, but just don't need to invest the time and budget to bring on a full-featured, enterprise ATS
Detroit (PRWEB) June 27, 2008
Applicant tracking system provider nowHIRE.com introduced the nowHIRE Elite Business Edition, providing small to mid-size businesses all the hiring management advantages enjoyed by the company's large corporate clients.
The Elite Business Edition is a Web-based applicant tracking system focused on the targeted hiring needs of smaller organizations. Its features focus on automating the paper-laden and often manual process or recruiting, hiring and on-boarding candidates.
Large corporate-level customers usually require an automated system that tracks the applicant through the entire employment lifecycle, including the employee's ongoing professional development. Such systems, often called "talent management systems," are overkill for many smaller organizations.
"We're increasingly talking to companies that know they need to automate their recruiting and hiring, but just don't need to invest the time and budget to bring on a full-featured, enterprise ATS," said Joseph Impastato, founder and chief executive officer. "Still, they want to be sure the basic system can be scaled to their talent management needs as they grow."
The nowHIRE Elite Business Edition enables companies to offer an Extreme Support Philosophy, providing toll-free and email support to job candidates as they apply on the Web. This promotes the employer's responsiveness, and helps candidates avoid the feeling their application has fallen into a "black hole."
These management and customer-service oriented features impress job candidates with the feeling that the company has a true "culture of communications," and values applicants' time.
nowHIRE's Elite Business Edition helps companies easily manage job requisitions, candidates, interviews and background checks; pre-screen and rank candidates; schedule interviews; merge duplicate records; generate ad-hoc reports; integrate with third-party systems; use prescreening questions and custom scoring, and pre-populate their company application with applicant-supplied data.
In addition, the Elite Business Edition automates job board integration as well as the entire job application submission and management process. It can also implement pre-employment assessment and pre-screening tools, plus receive E-Verify Program integration and support to ensure a legal workforce.
About nowHIRE
Since 1998, nowHIRE has provided applicant tracking systems for companies of every size within diverse vertical markets. Their industry-defining solutions feature fully integrated, Web-based recruiting and applicant tracking software modules. Companies can configure the software to their specific recruiting needs--for hourly, salaried, internal or contingent employees, or any combination thereof.
Media Contacts
Joseph N Impastato II
nowHIRE
586-778-8491 (x15)
joseph.impastato(at)nowHIRE.com
Gail DeLano
Fisher Vista, LLC / HRmarketer.com
831-685-9700
gdelano(at)fishervista.com
Adriana Saldana
Fisher Vista, LLC / HRmarketer.com
831-685-9700
asaldana(at)hrmarketer.com
This press release was distributed through eMediawire by Human Resources Marketer (HR Marketer: http://www.HRmarketer.com) on behalf of the company listed above.
# # #