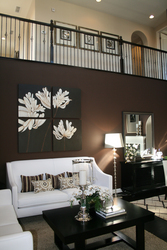 We are all very excited about opening Lone Oak Farms in Morgan Hill. With our commitment to quality, the great location in Morgan Hill, and the volume of people who have already expressed interest, we are confident that Lone Oak Farms will be a hit
Morgan Hill, CA (PRWEB) June 30, 2008
Lone Oak Farms is the newest of the Syncon Homes New Home Communities. This new home community in Morgan Hill, California strikes a perfect balance between the past, the present and the future. Lone Oak Farms by Syncon Homes comes complete with a historic farm house and towering oak tree, and brings back reflections of a simpler time when new homes were built with quality and neighbors were friends.
As part of the Morgan Hill Unified School District and close to all of the colleges and universities of the Bay Area, Lone Oak Farms by Syncon Homes is easily accessible to many highly rated educational facilities. Whether your kids are just starting school or you are pursuing a degree, you can rest assured that you are close to the best educational opportunities available.
Offering five unique floor plans ranging in size from 2,112 to 3,846 square feet with, 3 to 6 Bedrooms and 2 ½ to 4 Bathrooms, Lone Oak Farms by Syncon Homes has a variety of designs spacious enough to entertain your family and friends. Lone Oak Farms blends old world design with new world technology and offers environmentally conscience options including solar power. From the floor plans to location, and amenities to sense of community, Lone Oak Farms offers everything you want in your new home. "We are all very excited about opening Lone Oak Farms in Morgan Hill. With our commitment to quality, the great location in Morgan Hill, and the volume of people who have already expressed interest, we are confident that Lone Oak Farms will be a hit," said Zach Streight, Director of Marketing for Syncon Homes. Pricing for these new homes in Morgan Hill starts in the high $600,000's.
To visit Lone Oak Farms by Syncon Homes from Highway 101, exit Tennant Ave and go west. Turn right on Butterfield and then turn right on Barrett Ave. The Lone Oak Farms Sales Office is on the left, so look for the blue and white Syncon Homes flags.
For more information on Lone Oak Farms by Syncon Homes or the special first release pricing, please call Tony Lupina, the new home Sales Manager, at (408) 218-4886 or visit the Syncon Homes website at Syncon Homes Community Page.
Built upon three generations of homebuilding expertise, Syncon Homes is a company that prides itself on building superior homes. Syncon Homes was just the 7th Builder in the Country to have all divisions recognized as Quality Certified by the National Association of Home Builders. Syncon Homes has communities throughout California and Northern Nevada.
Contact:
Zach Streight
Director of Sales and Marketing
Syncon Homes
916-772-5221
Syncon Homes Web Page
# # #