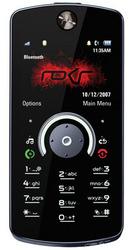 With ROKR E8, U.S. music lovers no longer have to settle when it comes to using their mobile phone as a music player and vice versa
New York, NY (PRWEB) June 26, 2008
Get ready to transform your mobile experience. The highly anticipated ROKR E8 from Motorola Inc. is set to rock the U.S. with exclusive availability from T-Mobile USA, Inc. beginning July 7, 2008.
Giving consumers the best of both worlds, ROKR E8 is both a talented MP3 player that makes great phone calls and a mobile phone with amazing music capabilities. The first device to feature Motorola's breakthrough ModeShift technology stole the spotlight at the 2008 International Consumer Electronics Show (CES), taking home top awards from leading consumer technology media.
Summary of key ROKR E8 features:

ModeShift technology transforms the device from phone to music player with the touch of a button
Innovative haptics technology provides tactile response when a virtual key is pressed
FastScroll navigation wheel allows for scrolling through thousands of songs with the slide of a thumb
Patented CrystalTalk™ technology delivers outstanding call clarity even in noisy environments
Windows™ Media Player™ 11 compatibility enables easy transfer of tunes from the PC to the device(1)
Includes pre-loaded music tracks and album art from Interpol, The Starting Line and The Red Jumpsuit Apparatus
"With ROKR E8, U.S. music lovers no longer have to settle when it comes to using their mobile phone as a music player and vice versa," said Jean Pierre Le Cannellier, senior director of North America marketing, Motorola Mobile Devices. "ROKR E8 is an exciting blend of innovative design and technology that harmonizes music and phone features into a single mobile device."
Motorola designed ROKR E8 to deliver an uncompromised consumer experience for music or talk. Using breakthrough ModeShift technology from Motorola, the quad-band GPRS/EDGE device presents users with only the controls they need, at the time they need them, instantly transforming from music player to phone with the touch of a button.
When powered off, the surface of ROKR E8 is smooth, with no visible keys. Power on the device and it presents a virtual numbered keypad on the front surface. With one "press" of the virtual music key, the phone keypad disappears and control keys for the music player -- play, pause, fast forward and rewind -- appear in its place.
Yet, ROKR E8 is more than just a "touch"-operated device. Using innovative vibrating haptics technology, the device provides the tactile feedback consumers expect from a traditional keypad, providing confirmation they have pressed a virtual key.
ROKR E8 also marks the debut of the new FastScroll navigation wheel from Motorola, a variable-speed touch control that lets consumers easily scroll through all of the content stored on the device. With a gentle slide of the thumb, the wheel quickly scrolls through your music (music mode), contacts (phone mode), calendar (phone mode), or multimedia (imaging mode) content. Information is easily viewed on the landscape 2.0" QVGA display.
In music mode, ROKR E8 delivers great sound through a three-dimensional stereo feature that enhances two-channel audio and an on-board equalizer. Music can be enjoyed on the built-in speaker, with a compatible Bluetooth® enabled stereo headset(2), or through a wired headset plugged into the 3.5mm jack.
ROKR E8 also helps consumers discover new music with a built-in FM radio and support for Song ID(3). The 2GB internal memory can store up to 1,500 songs(4), and the external memory is expandable up to 4GB with an optional microSD card. Music transfers quickly with USB 2.0. The device is compatible with Windows Media Player 11 on the PC, which also provides access to more than 200 online music stores.
In phone mode, ROKR E8 provides outstanding voice quality using Motorola CrystalTalk technology. The powerful device can receive calls while downloading or playing music(1), text messaging(3), surfing the Web(3) or taking pictures so you can constantly stay connected to those that matter most. Quality construction and materials help make ROKR E8 durable and reliable, and a high gloss front, aluminum soft touch back, spun metal side keys and engraved banding offer the modern style expected from Motorola.
Availability
ROKR E8 will be available beginning July 7, 2008 at select T-Mobile retail stores and online at http://www.t-mobile.com. For more information on ROKR E8, visit http://direct.motorola.com/hellomoto/rokre8/ or http://www.t-mobile.com.
About Motorola
Motorola is known around the world for innovation in communications. The company develops technologies, products and services that make mobile experiences possible. Our portfolio includes communications infrastructure, enterprise mobility solutions, digital set-tops, cable modems, mobile devices and Bluetooth accessories. Motorola is committed to delivering next generation communication solutions to people, businesses and governments. A Fortune 100 company with global presence and impact, Motorola had sales of US $36.6 billion in 2007. For more information about our company, our people and our innovations, please visit http://www.motorola.com.
About T-Mobile USA, Inc.
Based in Bellevue, Wash., T-Mobile USA, Inc. is the U.S. operation of Deutsche Telekom AG's Mobile Communications Business, and a wholly owned subsidiary of T-Mobile International, one of the world's leading companies in mobile communications. By the end of the first quarter of 2008, 123 million mobile customers were served by the mobile communication segments of the Deutsche Telekom group -- 30.8 million by T-Mobile USA -- all via a common technology platform based on GSM, the world's most widely used digital wireless standard. T-Mobile's innovative wireless products and services help empower people to connect to those who matter most. Multiple independent research studies continue to rank T-Mobile among the highest in numerous regions throughout the U.S. in wireless customer care and call quality. For more information, please visit http://www.t-mobile.com. T-Mobile is a federally registered trademark of Deutsche Telekom AG.
(1)The unauthorized copying of copyrighted materials is contrary to the provisions of the Copyright Laws of the United States and other countries. This device is intended solely for copying non-copyrighted materials, materials in which you own the copyright, or materials which you are authorized or legally permitted to copy. If you are uncertain about your right to copy any material, please contact your legal advisor.
(2)In order for Bluetooth devices to communicate with one another, they must utilize the same Bluetooth profile. To determine the profiles supported by other Motorola devices, visit http://www.hellomoto.com/bluetooth. For other devices, contact their respective manufacturer.
Certain Bluetooth features including those listed may not be supported by all compatible Bluetooth-enabled devices, and/or the functionality of such features may be limited in certain devices, or by certain wireless carriers. Contact your wireless carrier about feature availability and functionality.
(3)Network and/or SIM card dependent feature, not available in all areas. Airtime, data charges, and/or additional charges may apply.
(4)Capacity based on 3:45 minutes per song in eAAC+ format at a data rate of 48kbps. Storage capacity is approximate and is subject to available memory space and encoding method used: actual capacity varies by content.
MOTOROLA and the Stylized M Logo are registered in the US Patent & Trademark Office. The Bluetooth trademarks are owned by their proprietor and used by Motorola, Inc. under license. Windows and Media Player are either trademarks or registered trademarks of Microsoft Corporation in the United States and/or other countries. All other product or service names are the property of their respective owners. © Motorola, Inc. 2008. All rights reserved.
###