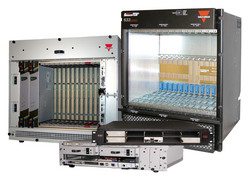 Brockton, Mass. (PRWEB) June 27, 2008
Carlo Gavazzi Computing Solutions, an innovative leader in electronic packaging and system expansion solutions, has expanded its PCI Industrial Computer Manufacturers Group (PICMG) service offering to provide custom connectivity solutions for harsh environments and the enterprise office. Carlo Gavazzi engineers employ interoperability testing, custom integration and packaging to develop high quality and cost-effective PICMG CompactPCI, AdvancedTCA and MicroTCA solutions for users in the industrial, military and telecommunications markets.
Interoperability testing and custom integration employed to develop cost-effective PICMG solutions
Carlo Gavazzi engineers work with each user to develop or retrofit an optimal connectivity solution, including 2- to 14-slot AdvancedTCA solutions for remote office applications. To properly design custom backplanes and chassis that meet demanding power, thermal management and connectivity requirements, Carlo Gavazzi performs interoperability testing to evaluate system performance. With expertise in shelf management software, such as PigeonPoint, Carlo Gavazzi customizes solutions down to the shelf management and firmware components.
Engineering expertise in new and legacy PICMG solutions, including AdvancedTCA
An Executive Member of PICMG, Carlo Gavazzi Computing Solutions engineers a wide range of new and legacy PICMG technologies. The company's CompactPCI/VME enclosures are engineered with a durable and versatile open architecture for applications where a traditional 'whitebox' computer does not suffice. AdvancedTCA models are customizable in a variety of slot configurations to suit individual bandwidths, and MicroTCA models are engineered to be an economical connectivity solution. Every solution is designed to meet PICMG guidelines and can also be designed to NEBS specifications.
About Carlo Gavazzi Computing Solutions
Based in Brockton, Mass., Carlo Gavazzi Computing Solutions is an innovative leader in system architecture for computing platforms. The company engineers solutions for the military, industrial and telecom industries and offers core product lines in electronic packaging, serial I/O and system expansion. All products are manufactured in the United States and comply with VITA, PICMG and PCI-SIG standards.
Carlo Gavazzi Computing Solutions is a sister company of Carlo Gavazzi Automation Components and a wholly-owned subsidiary of Carlo Gavazzi AG, a publicly-traded, global electronics group. For more information on Carlo Gavazzi Computing Solutions, visit http://www.gavazzi-computing.com, call 1.800.926.8722 or write to info(at)gavazzi-computing.com.
Attn publishers: Please send all sales leads to
Jessica Isquith, Vice President of Marketing, Carlo Gavazzi Computing Solutions
10 Mupac Drive, Brockton, MA 02301 U.S.A.
Phone: 1.800.926.8722 Fax: 508.588.0498 Email: jisquith(at)cg-cs.com
Thank you.
###