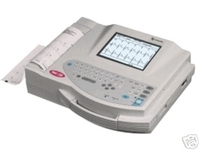 San Diego, CA (PRWEB) June 27, 2008
Medical Machines Online is happy to announce the current overstock and release of a new ECG Machine, the GE Marquette MAC 1200 Interpretive Deluxe. The GE Marquette MAC 1200 Resting ECG Analysis System is a comprehensive and practical solution for clinicians at smaller hospitals, clinics and physician offices.
This overstocked ECG medical equipment released on Medical Machines Online is a steal compared to how much you can find it for elsewhere, and its capabilities are numerous. The GE Marquette MAC 1200 is a compact 12-lead electrocardiograph designed for acquisition with or without analysis. The system can be configured as a standard electrocardiograph without analysis for facilities with minimal ECG requirements. The system can also be configured to incorporate the 12SL ECG analysis program. Adding the 12SL program creates an electrocardiograph with the industry leading interpretation program and measurements.
This brand new MAC 1200 includes an interpretive electrocardiograph with 12-lead analysis, waveform display, full-sized paper format, alphanumeric keypad, patient cable, paper, and power cord. It also has a three year warranty, which is exactly what you want when it comes to buying medical equipment for your private practice or smaller hospital/clinic. Some clinics or smaller offices might be looking to save even more money, and if so, they can easily find used medical equipment that is comparable to the GE Marquette MAC 1200 on Medical Machines Online.
This overstocked ECG machine is one of many new and used quality medical equipment pieces on the Medical Machines Online website: medicalmachinesonline.com. Medical Machines Online is proud to offer this durable ECG machine, the GE Marquette MAC 1200 Interpretive Deluxe As the demand for a quality new and refurbished medical equipment rises, the quality and selection medical equipment specialists offer should meet the demand with zeal.
About Medical Machines Online:
Medical Machines is the online shopping source for everything in new and used medical equipment. They offer a fantastic selection of all the best brand names in medical equipment, including Nihon Kohden, Burdick, Schiller, Welch Allyn, Cardioline, General Electric, Bionet, Dr. Lee, Fukuda Denshi, Brentwood / Midmark, Mortara, Philips, QRS and more. With these great names, we hope you can find the perfect new and refurbished EKG / ECG machines, patient monitors, dental equipment, defibrillators, bone densitometers, blood analyzers, pulse oximeters, ultrasound machines and stress test EKG's for your little corner of the medical community.
###