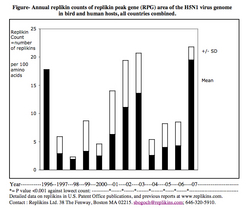 until the next rapid replication cycle of this or another influenza virus strain begins
Boston, MA (PRWEB) June 27, 2008
Replikins Ltd. has found that H5N1 virus replikin peak gene counts in 2007 in Hong Kong, Russia, Indonesia, Vietnam and Israel indicate that a new replikin cycle has begun. The mean replikin count exceeded the maximum of the previous cycle identified by the company. Although several conditions are required to produce a pandemic, the increase in replikin count, a feature of each of the last three pandemics, is now in the range of the increase seen in the 1918 H1N1 pandemic.
FluForecast® software was used to examine all influenza sequences published on PubMed. The area of the genome which contained the highest count of replikins (Replikin Peak Gene, RPG area) was isolated. A major control was obtained in the finding that the replikin count of the RPG area of influenza B virus, which is not lethal, never exceeded a value of 4 in a 67-year period. The first increase in H5N1 virus replikin count in 1996 was found to have preceded the Hong Kong flu outbreak in 1997 (see attached figure). The next increases in H5N1 virus replikin count in 2001, 2002, and 2003 preceded further H5N1 outbreaks and increases in human H5N1 mortality rates. In all countries together, a lower H5N1 virus replikin count occurred from 2004 through 2006, followed by a reduced number of total human cases and deaths confirmed by the World Health Organization. Replikins, Ltd then reported that the cycle of rapid replication for H5N1 which began in 1996 appeared to be over in 2006 ---"until the next rapid replication cycle of this or another influenza virus strain begins".
In 2007, with the replikin count rising to its maximum value to date, a new and perhaps more lethal H5N1 cycle appears to have begun (see figure). In mid-June 2008, the appearance of H5N1 in chickens in markets in Hong Kong prompted extensive culling.
###