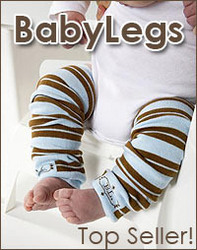 We know that every baby is different and not all products are right for everyone. We have been using modern cloth diapers, baby slings and many more of the products we offer for over 5 years and are happy to provide information to help you succeed in your cloth diapering and natural parenting journey
Murrieta, California (PRWEB) June 27, 2008
"Going green" is what it's all about these days and Danielle Stein of Mama oh! Baby knows that very well. But she also knows that parents want style in addition to being earth-friendly. Merging her two popular baby boutiques, Cloth Diapers for Baby and Emily Juliette Maternity & Baby Boutique into the new http://www.mamaohbaby.com, she shows you that gone are the days of organics being drab and invites you to come see that natural and style can co-exist! With hundreds of products available including a wide selection of cloth diapers, dozens of styles of BabyLegs, organic crib mattresses and organic baby carriers, you'll find everything you need for your natural maternity and baby needs.
Mama oh! Baby is focused on natural, stylish and earth-friendly products for mothers and babies, and profiles several of its suppliers to show you exactly why their products were chosen for http://www.mamaohbaby.com and exactly what the companies are doing for the environment.
As a way to get visitors excited about the products, Mama oh! Baby holds monthly prize drawings for popular items such as BabyLegs, baby slings and more. Also, for most orders over $75, http://www.mamaohbaby.com offers free shipping.
Danielle Stein says, "I have been practically obsessed with baby products since having our first child 6 years ago and have made it my mission to spread the word about all of these wonderful products that are chemical free, organic and just better for babies, moms and the environment."
The new website is full of features and product information like an online baby registry, wish list and the Cloth Diapering 101 section where you will find all your questions about cloth diapers and cloth diapering answered.
"We know that every baby is different and not all products are right for everyone. We have been using modern cloth diapers, baby slings and many more of the products we offer for over 5 years and are happy to provide information to help you succeed in your cloth diapering and natural parenting journey," states Danielle Stein.
About the company:
Mama oh! Baby is owned and operated by Danielle Stein and is based in Southern California. With a focus on natural and stylish maternity and baby products, http://www.mamaohbaby.com is your destination for all of your stylish natural baby products needs with top brand names such as BabyLegs, Green to Grow, Pixel Organics, Baby Planet, Generation Baby, bumGenius, Happy Heinys, Ecotots, Thirsties Baby and many more.
Contact:
Danielle Stein, owner
Mama oh! Baby
951-200-3069
http://www.mamaohbaby.com
###