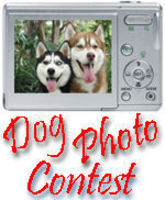 makes their pet a star
Fort Lauderdale, FL (PRWEB) June 28, 2008
Million Dollar Pet Pix have extended their "Make Your Pet A Star" special membership drive through to July 31st. Each person who "makes their pet a star" in the 10-year pet time capsule by this date will help Guide Dog and Therapy Dog charities and have a chance to win cash prizes.
What better time to celebrate the wonderful pets in your life… summer family fun and great photo ops! Designated as "Make Your Pet A Star" Month, (National Events Registry), June is the perfect time to catch that oh-so-perfect pet photo.
To celebrate this fun event, the team at http://www.MillionDollarPetPix.com has pledged to assist a number of Guide Dog and Therapy Dog Charities across the country during their month-long pet time capsule membership drive… and they've extended the date to July 31st to ensure that more pet people can join in the fun!
Pet lovers can celebrate their pet in style by adding them as stars in the Million Dollar PetPix Time Capsule and help to support Guide Dogs and Therapy Dog charities as a portion of every fee received for new membership registrations until July 31st has been pledged to support these important pet charities.
The Million Dollar Pet Pix Time Capsule, where pet lovers can "make their pet a star", is a bright and family-friendly showcase for pets that allows pet lovers to give their pet the gift of celebrity. Each pet registered gets their very own star and a corner of fame in this 10-year time capsule… central stage for their photos and story for the entire world to enjoy!
The pet time capsule also gives pet owners the opportunity to show off their best "paw-pawratzi" skills... so, while their pet gets celebrity as stars in the time capsule, the pet owners get bragging rights as well as the member-only privileges of this exclusive pet time capsule.
To add to the momentum and fun of the membership drive, a free photo contest is open for registered time capsule members (both current and new). In keeping with the pledge to the Guide Dog and Therapy Dog charities, the theme of this photo contest is dogs.
This "One-in-a-Million Dog" photo contest offers a number of cash prizes and includes a grand prize of a gift certificate for a RoamEO GPS pet locator device, (ARV $419.00 USD), kindly supplied by White Bear Technologies of St. Paul MN.
About MillionDollarPetPix.com
This family-friendly pet website, essentially a monthly pet magazine (e-zine) for pet lovers of all ages, provides pet articles and advice from well-known and respected pet specialists along with pet quotes and jokes, pet news and notes and pet product information.
The owners of this playful pet website believe that every pet is a "million dollar" pet and a star, so the site features the Million Dollar PetPix Time Capsule at its core… a fun way for pet lovers everywhere to showcase their beloved "million-dollar" pets. The intent of the website is to create a greater awareness of the importance of responsible pet ownership while underscoring the great value pets add to our world.
For further information about membership and photo contest details please visit http://www.MillionDollarPetPix.com or call 561-283-4407.
###