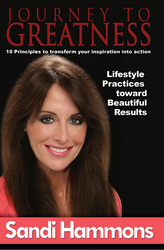 God is preparing you for a much greater role.
Arlington, TX (PRWEB) June 28, 2008
Sandi Hammons new book series will expand her sphere of influence beyond the world of permanent cosmetics and more fully explore her spiritual journey that brought her out of poverty and depression to eventual financial success and the pinnacle of her industry. Sandi Hammons will also be offering a series of seminars designed to teach participants practical business and money management skills as well as tips and techniques for creating success in business, relationships and life. Her educational offerings will also address belief patterns that lead to failure and replace them with a "prosperity program" that works.
Sandi Hammons, often referred as the "new Mary Kay Ash" is a celebrated motivational speaker, pioneer of permanent cosmetic pigments, driving force behind the Alliance for Safe Practice, gifted visionary, master entrepreneur, and host of the reality DVD series: "The Permanent Cosmetic Apprentice". She is in high demand as a consultant, keynote speaker and seminar leader by professional associations, corporations and women's advocacy groups. Founder and CEO of Premier Pigments and the American Institute of Intradermal Cosmetics, she is considered one of the foremost authorities on permanent makeup and cosmetic tattoo procedures. A shrewd and innovative businesswoman, Sandi parlayed her success in the cosmetic industry into numerous other ventures. Most recently, she founded the Sandi Hammons Charitable Foundation, a non-profit organization designed to encourage and support women and children through education, philanthropy and hope. Through her powerful lectures and her commitment to use her life to make a difference in the lives of others, she has created an unparalleled connection with women and men around the world and her influence and generosity have established her as a highly respected and admired public figure.
Sandi Hammons message is simple: You were born with a divine capacity to manifest greatness within. At the same time, God will create a greater reality for you than any dream you think possible. While these promises may seem contradictory and extravagant, they are not; they are actually true, compatible, and realistic.
The following is an excerpt from "Journey to Greatness":
God's dream for you is far greater than any you could ever dream. His dream for you is greater than your happiness, peace, or pleasure. It is greater than your goals, education, or professional success. It is greater than the money, investments, or possessions you acquire. His dream is greater than any friendship, sexual encounter or relationship you yearn for. It is far greater than any fantasy you could ever imagine.
Sadly, most people never find out what that God's dream for them is. They don't even settle for their own lesser dream. Most live their entire lives without clarity, vision or purpose. They tolerate mediocrity, loneliness, unfulfilling relationships, depression and even poverty. Their dreams become so cloaked in the frustrations and routines of daily life; they lose the certainty that yields confidence and a system for successful living.
Those who discover God's purpose in their lives are easy to recognize. They are the rare few whose light shines brightly; the top 2% of the population who know the language of success. They are the people who operate from programming that yields prosperity for themselves and others. They are the top achievers who are instrumental in bringing peace and positive change to the world.
Chapter Four
God is preparing you for a much greater role
My world was falling apart.
My best friend was dying of cancer. I was yet grieving the loss of family. One of my companies had recently suffered significant financial losses. Over one hundred news organizations were demanding answers to an FDA report manipulated by a competitor. The telephone was ringing nonstop, consumers were panicking, and I was facing a workload that seemed insurmountable. In addition, I was still recovering from a recent bout of pneumonia. Life could not have appeared grimmer in that moment.
My friend, Anna, was the voice of comfort on that day. She said, "God is preparing you for a much greater role."
Her words rang true, but I was in no mood to engage in a calm discussion of spiritual matters. I was in so much emotional pain; I wanted to escape through my work. And too, I had phone calls to make, reporters to deal with and God willing, a home to go to - if I ever finished the stack of paperwork in front of me. It was not until I was driving home much later that evening that I took the time to reflect on my life and Anna's remark.
My life has been and continues to be an extraordinary journey of vicissitudes. With every challenge and test placed before me, I have learned to hang on to the programming and native wisdom I was gifted with many years ago. I knew that no matter how difficult life becomes that it is a staging ground to prepare me for greater heights.
###