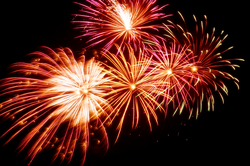 When you pack the sunscreen for the Fourth of July picnic, also include a few pairs of disposable ear plugs for the evening fireworks show, for you and your kids.
Edison, NJ, (PRWEB) June 30, 2008
As we approach the Fourth of July, much of the attention on fireworks safety is in regards to physical safety of the hands, fingers, etc., but did you know that letting freedom ring a little too loudly this Fourth of July can be harmful to your hearing, too?
Americans love to celebrate July Fourth with firecrackers, music and marching bands, but too much noise pollution, even one incident of very loud noise, can lead to developing tinnitus (ringing in the ears) or other hearing damage. "Think about ear care like skin care during the summer months," advises Andrew Cheng, M.D., an otolaryngologist and clinical assistant professor in the Department of Otolaryngology-Head & Neck Surgery at New York Medical College and ear health advisor for Lipo-Flavonoid (http://www.lipoflavonoid.com) , a clinically-proven, dietary supplement that has shown promising relief for tinnitus sufferers. "When you pack the sunscreen for the Fourth of July picnic, also include a few pairs of disposable ear plugs for the evening fireworks show, for you and your kids."
"Most people will develop tinnitus (ringing in the ears) or suffer a loss of hearing after being exposed to high levels of noise pollution over a period of time," adds Cheng. "But, in some cases it may only take one exposure at the town fireworks show to cause permanent damage."
How Loud is Too Loud?
Noise is measured in units called decibels, on a scale from zero to 140. The higher the number in decibels, the louder the noise. The louder the noise, the greater the risk of developing tinnitus or even hearing loss. "Tinnitus or hearing loss can occur with regular exposure to noise levels of 110 decibels or more for periods longer than one minute," adds Dr. Cheng.
Some typical summer sounds at the local fireworks show and their decibel levels:

Music concert (120)
Exploding firecrackers (150)
Watching fireworks (130 to 190, depending on how far away you are).
After the Smoke Clears and the Damage is Done:
If you are unlucky enough to develop tinnitus, you should know there are some treatments available for tinnitus, or ringing in the ear, however, there is no real cure. Doctors suggest making lifestyle and dietary changes to help ease the intensity of the "ringing" (which can also appear as a whooshing or buzzing sound) including:

Avoiding caffeine or alcohol
Managing stress
Avoiding exposure to additional loud noises which can aggravate tinnitus further (invest in a good pair of ear plugs).
Taking Lipo-Flavonoid, a nutritional supplement that contains a complex of B vitamins proven to help decrease the intensity of tinnitus. Dr. Cheng recommends it to his tinnitus patients because he sees improvement in seven out of 10 patients. The exact formulation of ingredients in Lipo-Flavonoid® has been clinically-tested to demonstrate relief.
Controlling blood pressure
Decreasing salt/sodium intake
If you're still not hearing well or your ears feel odd after several days, Dr. Cheng recommends making an appointment with an ear, nose and throat doctor or your health care provider. "Cherish your hearing; take precautions all year round," he concludes.
For more information or to take an online quiz to assess your hearing health and to receive a free pair of ear plugs (while supplies last), visit http://www.stopearringing.com .
###