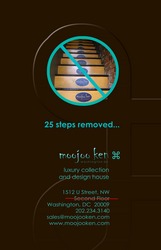 No longer will we be lovingly chided by weary husbands in tow exclaiming, 'I just don't know if I can make it up those stairs!'
Washington, DC (Vocus) June 30, 2008
When the owners selected the second-floor retail location to display their line of matching handbags and shoes a couple of years ago, the 25-stair climb to their charming 600sf loft was perfect for the designers. Now, after incubating and distilling their unique line of shoes, handbags and accessories, they are ready to take their concepts street level.
"No longer will we be lovingly chided by weary husbands in tow exclaiming, 'I just don't know if I can make it up those stairs!'" says H. Dadmanesh, one of moojoo ken's three owner-designers.
The new retail location will give moojoo ken much needed space. Before, the design house was a sweetly sheltered secret upstairs. The designers really have their work cut out for them in the new space and admit to a healthy nervousness that they intend to use as fuel for their creativity.
If you loved moojoo ken's secrecy and intimacy, not to worry, they have many methods to satisfy clients. Be assured, moojoo ken is seeking long-lasting, unconditional love.
About Moojoo Ken
Moojoo Ken means "unconditional" in Japanese, as the owners have drawn on their extensive travels to inspire their collection. The cozy boutique offers up a colorful, eclectic line that features a childhood dream emblem. The collection of unique handbags, shoes, and boots take their names from historic and exciting Washington, DC neighborhoods, streets and locales. Washington, DC might not be known for its fashion, but moojoo ken wants to change that perception.
###