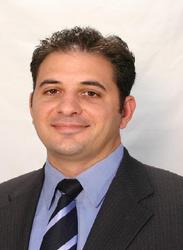 Achieving the necessary strength and flexibility is only the beginning of the battle. Most people also grip the club too tightly.
Irvine, CA (PRWEB) June 30, 2008
Every golfer wants the smooth, natural stroke of Tiger Woods. Few outside of the professional ranks achieve it on a regular basis. Today, Dr. Vasili Gatsinaris, founder of Irvine's Next Level Wellness Center, says to increase strength and flexibility for a better golf score. Gatsinaris here provides five tips to improve one's swing and, thereby, your game.
"In my experience, rigidity of the connective tissues in the back and inflexibility of inner thigh muscles are two of the most common causes of poor or inconsistent swings," says Gatsinaris. "These, along with insufficiently strengthened quadriceps, are the root causes of many handicaps."
Follow these five tips to increase strength and flexibility for a better golf swing:
1. Start with the quadriceps. When the club is at the top of the backswing, approximately 75% of the golfer's bodyweight has been transferred to the muscles in the front of the thigh, called the quadriceps. Without proper conditioning, the result is a "wobbly" swing after a few hours golfing. To strengthen the quadriceps, stand with your back against a wall and your feet slightly apart and in front of you. Slowly bring your upper body down as if you were sitting in a chair bringing your knees to about 90 degrees (or higher) and hold this position. Start with one minute holds and work up to five minutes a day.
2. Stretch the lower back. Connective tissues called fascia surround muscles, like plastic wrap, and can pull or compress key muscles with a force of up to 2,000 lbs per square inch. The fascia golfers should focus on attaches the mid to lower back. Sit on a chair or bench and bring your head toward your knees. Hold that position for 60 seconds. Repeat daily. Doing so relieves pressure from the lower back and associated fascia, improving flexibility.
3. Stretch the adductors. These are the muscles of the inner thigh. Sit on the floor with your legs straight out in front of you. Draw your feet in toward your hips, so your knees bend outward like the wings of a butterfly. Place your elbows between your knees and slowly put your knees to the floor. You'll feel the stretch in your inner thighs. Do this daily.
Gatsinaris adds, "Achieving the necessary strength and flexibility is only the beginning of the battle. Most people also grip the club too tightly."
4. Loosen your grip. With golf, tight, clenched fist muscles slow clubhead speed and change the angle of contact with the ball. To remedy this, start gripping your club very lightly (one on a scale of 1 to 10), and gradually increase your grip to 10. You should feel the differences in the scale, and notice a comfortable grip pressure around three to four. This is the grip you should use throughout your swing. If you feel too tense, take a deep breath and remember to relax.
"The last problem is hitting your divot farther than your ball," says Gatsinaris. "This happens when you hit the ground before the ball. It's embarrassing. Let's face it; it doesn't look good."
5. Hitting it Fat. There is an exercise to help alleviate this problem. Place a tee in the ground, with a ball about an inch behind the tee. As you swing, the goal is to hit the ball first on the downward swing and strike the tee, knocking it out of the ground. This will eventually create a shallow divot and you will hit the ball much more smoothly. It will take some time to get used to, because you are still in the downward swing. If you focus on the tee, you will master this before you know it.
According to a May 2007 statement made by the American College of Sports Medicine (ACSM), the lack of warm-ups is linked to golf injuries. The statement was made based on the results of a study by Andrea Fradkin, Ph.D. a visiting academic scholar from Australia and co-coordinator of the University of Pittsburg Medical Center (UMPC) Golf Fitness Lab. The ACSM site reports that Fradkin surveyed 304 golfers, who revealed their golf activities, injury status and warm-up habits over a 12-month period. About a third of the golfers (111, or 36.5 percent) reported an injury, most frequently to the lower back, shoulder or elbow. Strains were by far the most commonly reported type of injury (37.8 percent). Other types of injuries included stiffness, inflammation, tendonitis, and sprains and, less commonly, pinched nerves, fractures, heel spurs and contusions or dislocations.
"Injuries can happen when not using the right form and when tight muscles are not warmed up via stretching prior to playing. Get the right help if you do get injured," Gatsinaris offers. "New techniques, such as the Fenzian Treatment System and Active Release Technique or ART, are now being used to eliminate pain and speed healing to return players to active status relatively quickly, sometimes within just a few visits."
The treatments available at Next Level Wellness Center are the latest, state-of-the-art methods. They include Active Release Technique, Active Isolated Stretching, Fenzian Treatment and Orthotic 3Dimensional Foot/Gait analysis.
About Dr. Vasili John Gatsinaris:
Dr. Vasili Gatsinaris is a Southern California native who graduated with a Bachelor of Science degree in biology from the School of Biological Sciences at the University of California, Irvine. He received his Doctorate degree from Los Angeles Chiropractic College. Gatsinaris is one of 40 certified Fenzian Treatment System practitioners in the United States and one of three in Southern California. He is a certified Active Release Technique (ART) provider and is Active Isolated Stretching (AIS) certified. Gatsinaris has treated numerous professional, collegiate and amateur athletes. He is the founder of Next Level Wellness Center in Irvine.
About Next Level Wellness Center:
Next Level Wellness Center is local at 17811 Skypark Circle, Suite E in Irvine, Calif. 92614. Next Level Wellness also offers a Pilates studio, massage and personal training services. For more information visit http://www.nextlevelwellnesscenter.com or call 949-263-9003.
NOTE: Fenzian and The Fenzian Treatment System are trademarks of Eumedic Ltd.
###