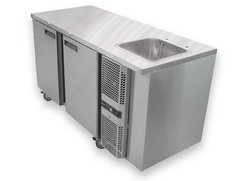 Counter refrigerators are getting much more popular, but many caterers want individual options, to fit their individual requirements in their individual kitchens
(Vocus) June 30, 2008
British refrigeration manufacturer Precision promises an individual approach to counter refrigeration design. "Counter refrigerators are getting much more popular, but many caterers want individual options, to fit their individual requirements in their individual kitchens," explains Precision sales director Jeremy Hall. "We're unusual in being able to tailor our counters, whereas most refrigeration manufacturers stick to a range of standard models. Our factory is new and we designed the manufacturing with a level of flexibility to allow us to accommodate customers' different requirements."
So just how adaptable can Precision counters be? The company can easily adjust them to account for minor modifications such as an extra shelf, a kick plate, drawers and doors, or a raised plinth. Counters can have special work surfaces or be painted to fit in with décor. Bin chutes, ambient over-shelves and heated gantries can all be accommodated into the counter, along with, if necessary, the kitchen sink.
Precision can also adjust the dimensions of the counter. The minimum depth is 500mm - the maximum can be just about anything, since the counter top on a 650mm or 700mm deep cabinet can be extended to match the space available. The height can be adjusted, too, from around 725mm up to 900mm or beyond, and the length can be extended to the kitchen's requirements.
Precision's Counter 500 Series are a special 'narrow gauge' counter range measuring only 500mm deep, which it offers alongside its industry standard 650 to 700mm models. "The success of the 500 Series showed us just how much demand there is for non-standard counters," says Jeremy Hall. "It's led to customers asking for more and more individual designs."
Precision points out that tailored counters will need to be ordered around three weeks in advance, as they can't be an 'off the shelf' option. "Our standard counters are usually available for next day delivery and if the chef just wants something relatively straightforward, like an extra shelf, we can produce it very quickly," says Hall. "More complicated designs will take longer, but if it's really urgent we're flexible and can move fast."
For more information check out the Precision website (http://www.precision-refrigeration.co.uk), or call the company directly on +44 (0)1842 753 994.
Counter refrigerators for the individual.doc – Jun-08
Press Enquiries:
Toni Turner or Alison Haynes at The Publicity Works
Tel: 01263 761000 Email: precision@publicityworks.biz
Jeremy Hall at Precision Refrigeration: +44 (0)1842 753 994
More information on Precision from http://www.precision-refrigeration.co.uk
Separations charge enquiries: offers can only be accepted by fax on 01263 761009.
All offers are considered. We will call you if the answer is 'yes'. Otherwise the answer is, regrettably, 'No'.
Notes for editors
Who Is Precision?

Precision is the newest name in robust, dependable, UK-manufactured refrigeration for commercial catering environments. Precision Refrigeration is run by people who know what matters most in a busy, demanding kitchen. Directors include Jeremy Hall, Nick Williams and Mike Williams, all ex-Williams Refrigeration.
Back bar, upright gastronorm cabinets and prep counters are manufactured in stainless steel inside and out - delivering the quality and reliability that you expect from a market leader, but at significantly better prices.
Precision is about good, solid, functional products that caterers and their customers can depend on, 24 hours a day, 365 days a year. All products are backed with a straight-talking, no quibble guarantee.
###