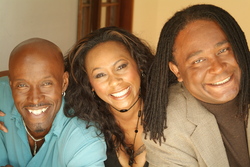 Los Angeles, CA (PRWEB) June 5, 2008
The Comedy Act Theater Grand Re-Opening was held Thursday, 5-29-08 in Los Angeles, and the event streamed live over the newly created Comedy Act Planet Tv. The live broadcast was the joint effort of Lasting Value Broadcasting (http://www.lastingvalue.com) and Pax Stereo Tv (http://www.paxstereo.tv), and is currently available for viewing On-Demand. The live broadcast and associated Internet television channel ("Tv") represents the partnering of ongoing efforts by the two companies to expand and develop new online communities. Channels feature 24/7 broadcasts, integrated chat, On-Demand listings, and the latest in widgets. Visitors to the channel may also join and upload their own unique content including photos, audio and video files. Website and channel design and implementation was provided by Pax Stereo Tv, while the broadcast is maintained by Lasting Value Broadcasting.
The Comedy Act Theater (http://www.comedyacttheater.com) was opened by Michael Williams in 1985, in south central Los Angeles. He recruited the late Robin Harris, creator of the famous "Bebe's Kids" series, and soon became the first and only major comedy club to cater to black performers and audiences. Vintage video clips of the legendary Harris are featured prominently in the Comedy Act Planet On-Demand programming.
The Comedy Act Theater's successful club model had spread to several cities, only to succumb to unforeseen health concerns in it's innovative creator. Initially given just six months to live, astoundingly Williams has not only recovered but made the decision to return to his work as a creator of comedy careers. The Comedy Act Theater will be in operation each and every Thursday night at it's original location.
Potential viewers should be aware that channel content is adult in nature.
The Comedy Act Theater, now renamed the Comedy Act Planet is currently located in it's original home in Leimert Park's Regency West, 3339 W. 43rd Street, Los Angeles. For more information call (213) 706-4403.
Pax Stereo Tv has a variety of Internet and mulitmedia design services for individuals and businesses of all sizes. Please contact Victor Allen at (323) 296-6165 for more information.
###