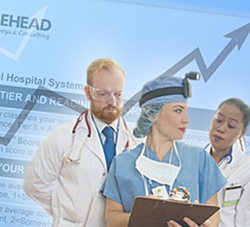 Driving Physician Engagement with Effective Action Planning
Charlotte, NC (PRWEB) June 4, 2008
Morehead, the human capital research firm, will present the company's framework for increasing a healthcare organization's physician engagement through action planning. The webinar, titled "Driving Physician Engagement with Effective Action Planning" is scheduled for Thursday, June 19, 2008, at 1:00 p.m. Eastern time.
Many healthcare organizations that collect physician opinion data do nothing with it. This is often due to the difficulty organizations face in engaging physicians in action planning following data collection. Morehead's David Rowlee, Ph.D., vice president of Research and Development, and Brad Morton, vice president of Business Development, will host the free hour-long webinar.
Rowlee and Morton will discuss Morehead's extensive experience in collecting and analyzing physician data and will present the company's customer-based action planning framework. The framework and examples will illustrate how to work around common barriers related to physicians participating in action planning and how to increase physician engagement using both qualitative and quantitative data.
To sign up for the webinar, visit http://moreheadassociates.com/events/contents_event56.html.
About Morehead:
Morehead delivers human capital surveys, metrics and solutions that enable leaders to (1) target and focus human capital initiatives, (2) prioritize systemic change, (3) inform work unit interventions, and (4) align employees with business strategies. Morehead's clients include healthcare providers, financial institutions, government agencies, universities, service providers, and manufacturers. For more information, visit http://www.moreheadassociates.com.
Media Contact:
Wanda Craig
800.849.2292 x 5515
wcraig(at)moreheadassociates.com
This press release was distributed through eMediawire by Human Resources Marketer (HR Marketer: http://www.HRmarketer.com) on behalf of the company
listed above.
###