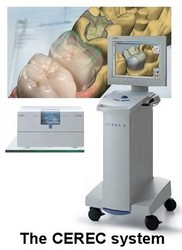 San Diego, CA (PRWEB) June 5, 2008 –
Longtime dentist Dr. Ernest Wong has joined the exclusive list of San Diego-area dentists to offer the advanced CEREC technology to his patients who suffer from a broken tooth. CEREC allows patients with a broken tooth to have a new, custom-made porcelain crown cemented the same day.
For the past 22 years, Dr. Wong has treated a broken tooth with the traditional method of taking an impression of the tooth, sending it to a dental lab, fabricating a temporary crown and seeing the patient in two weeks when the permanent crown comes back from the lab.
The state-of-the-art CEREC machine changes all that. The patient with a broken tooth can now have a new, custom-made porcelain crown cemented the same day. After the tooth is diagnosed to have a crown made, the tooth is "prepared" the usual conventional manner. Then an infrared camera takes a three-dimensional picture of the tooth. The CEREC Biogenic software will calculate the dimension of the tooth and, based on Dr. Wong's instructions and give a proposal of what the restored tooth should look like. With some minor adjustments, this proposal will be sent to a "milling chamber" where the crown is milled out from a block of porcelain. Dr. Wong offers a large inventory of blocks so that it is never a problem to match the crown to the exact shade and translucency. In 10 to 15 minutes, the crown is milled and is ready to be cemented.
The advantages are as numerous as they are obvious. Patients will get the crown the same day and no longer have to wait for two weeks or the second appointment. The tooth gets crowned immediately, and Dr. Wong gets to offer the best possible care to the patients.
Dr. Wong's dentistry, at 4520 Executive Drive, Suite 200, is one of only a select few locations in the San Diego area that are offering this advanced technology. For more information, visit http://www.smile-dds.com.
About Dr. Wong:
Dr. Wong has been practicing dentistry in San Diego since 1988. He graduated from the University of Pacific School of Dentistry in 1986 and then completed two years of prosthodonic training at the University of Michigan. Dr. Wong is a Member of American Dental Association, California Dental Association and San Diego County Dental Society.
Contact:
Ernest C. Wong, DDS, MS
(858) 587-2828
http://www.smile-dds.com
# # #