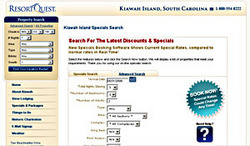 There's no better way to recharge your batteries and get back in touch with the little things in life than spending time at the beach with family and friends
Charleston, SC (PRWEB) June 2, 2008
ResortQuest's new Specials Search Technology makes it a snap to compare list price vs. current discounted rates on the fly for villas, cottages and homes on Kiawah Island, Seabrook Island, Isle of Palms and Wild Dunes.
Those looking for a real break in their routine and in their pocketbook will appreciate this handy new feature on ResortQuest's - Charleston's Islands website. A brand new Specials Search Engine allows the user to look for up-to-the-minute discounted rates on lodging at Charleston's beach resorts. Just a few quick clicks gives you real-time results with discounted rates displayed right next to regular rates, so there's no question as to how much you'll be saving or why it makes sense to book a vacation now.
"There's no better way to recharge your batteries and get back in touch with the little things in life than spending time at the beach with family and friends," says Bob Moore, V.P. of Marketing for ResortQuest - Charleston's Islands. He adds, "And with our new Specials Booking Engine, you have the added benefit of knowing you're getting a great deal and the piece of mind that comes with it."
As we pile more and more into our busy schedules and daily routines, it becomes more and more important to be smart about where and how we spend our down time. We want to stop and smell the roses, but the flowers must be within our budget before we will buy them.
ResortQuest is offering visitors to Kiawah Island, Seabrook Island, Isle of Palms and Wild Dunes exciting and exclusive ways to save, all while staying in fully-equipped private homes, villas and cottages. The area offers miles of pristine beach, championship golf, tennis, biking, nature tours, shopping, dining, water-related activities and more. A program called ResortQuest Privileges offers special rates and discounts on activities, tours, dining, and shopping from area venues.
About ResortQuest
ResortQuest, one of the nation's leading vacation rental and resort real estate companies, provides a one-stop resource in North America's premier resort destinations. ResortQuest Charleston is the largest vacation rental company serving Charleston and the beach resort islands of Kiawah, Seabrook, Isle of Palms, Wild Dunes and Sullivan's Island. ResortQuest has offices located on Kiawah Island, Seabrook Island and Isle of Palms, South Carolina.
###