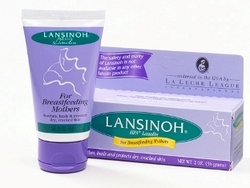 The safety and purity of this best-selling lanolin is not available in any other lanolin product
Alexandria, VA (PRWEB) June 2, 2008
Lansinoh Laboratories, Inc. (http://www.lansinoh.com)], the marketer of premium breastfeeding products for more than 20 years, is known for developing safe products that provide relief and comfort to millions of breastfeeding mothers and their babies. This year was no exception with the introduction of the improved Lansinoh® HPA® Lanolin for Breastfeeding Mothers, the only product of its kind endorsed by La Leche League International, the world's leading authority on breastfeeding.
Lansinoh® HPA® Lanolin is a single-ingredient product made from only the purest lanolin. "The safety and purity of this best-selling lanolin is not available in any other lanolin product," explains Gina Ciagne, CLC, Lansinoh's director of breastfeeding relations and outreach. "Lansinoh continues to place supreme importance on the overall health and safety of mother and baby. We develop and improve products using premium ingredients and specifications, which are as safe as they are effective."
Improved! Lansinoh® HPA® Lanolin
Lansinoh® HPA® Lanolin, the leading topical in its category, is made with the same proven formula as the original, but with an improved refining process for smoother application. With the improved refining process, Lansinoh maintains its integrity as the purest, safest nipple ointment available, by selectively filtering out any remaining color and odor-forming impurities. Lansinoh® HPA® Lanolin provides the same efficacy to soothe, heal and protect dry, cracked skin as the original Lanolin, but with an enhanced purity, which gives the product a clearer appearance and is virtually odorless. It still contains no preservatives, no additives, no water, no chemicals and no perfume.
The HPA® Lanolin continues to assist the skin in restoring and maintaining the proper moisture content essential for healthy, supple skin. This product is so pure and safe that it can be used on even the most sensitive skin - including those allergic to wool and other lanolin products - and it does not need to be removed before breastfeeding.
With its new, attractive, easy-to-read bilingual English and Spanish packaging and convenient flip-cap, Lansinoh® HPA® Lanolin is available nationwide at baby stores, supermarkets, mass market retailers, and drugstores, as well as via online retailers such as BabiesRus.com and Target.com.
Note to media: For more information about Lansinoh® HPA® Lanolin or to set up an informative interview with Gina Ciagne, please contact Laura Giardina at (914) 241-0086, ext. 20 or lgiardina(at)robinleedyassociates.com
###