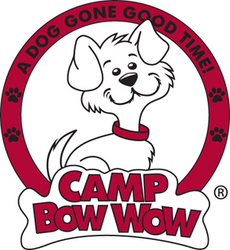 It's now a family affair we are so excited to work together on our new business
Stamford, CT (PRWEB) June 2, 2008
The doors are open and the tails are wagging as the first Camp Bow Wow® opens in Connecticut just in time for summer getaways. Dogs and their two-legged guardians are invited to visit the brand new doggy day care and overnight boarding camp located at 581 Hope Street in Stamford at the intersection of Hope Street and Viaduct Road. Pups are invited to come in and experience an entirely new concept in doggy day and overnight care.
It's not only a treat for dogs but for their human friends as well, according to owner John Caro, who owns the camp with his wife, Gladys. "Our live doggy cams are an extremely popular feature and we've already heard from clients who watch their pups from work just to see how much fun they are having…it can be addicting," said John. While the doggy web cams are an important safety and security feature, the camp also offers what dog owners have been looking for -- a place where a dog can be a dog.
For one thing, there's the all day play. Instead of spending most of the day in a cage, without walks and play time, dogs that visit Camp Bow Wow® enjoy most of their time (whether it's for day camp or boarding) playing in one of the three large indoor/outdoor play areas. "During the day, our pups are only in their cabins during mealtime. The rest of the time they are romping and playing with other dogs who are similar in nature," said Sue, the Caro's daughter and Camp Manager. At Camp Bow Wow® Stamford, day campers find themselves exhausted by the end of the day when their guardians come to pick them up. The guests who stay overnight are given a tasty Campfire treat just before being tucked into their own private and spacious cabin. All cabins are complete with a comfortable cozy fleece-lined cot in a climate controlled environment.
Sue gave her parents the idea to start a Camp Bow Wow® in Stamford. Her father John has always has had a passion to work with pups, and now has been given the best opportunity to do what he loves. It all started with Poochie and Milo, their 2 dogs loved having sleepovers and playing with their other furry friends. The Caro's say they were operating something that resembled a doggy bed and breakfast out of their home. One thing led to another and when Sue discovered that her father could combine his love of dogs with owning a booming business they were in dog heaven! "It's now a family affair we are so excited to work together on our new business", said Sue.
There are a few requirements to be a camper and it all starts with the free interview day. The interview is a meet and greet with dogs of similar size and temperament and both John and Gladys advise owners to leave their pooches for the full day. "Basically, it's a free day of camp and we get to know our future guests on a first name basis," said John.
John and Gladys will be hosting their first VIP (Very Important Pooch) Event on Wednesday June 11th from 4 to 7 p.m. at Camp Bow Wow's Stamford location at 581 Hope Street. This will be a great opportunity for local business owners and invited guests to meet the staff and receive a tour of the camp while enjoying appetizers and wine. Stamford Mayor, Dannel Malloy, will be cutting the ribbon and welcoming Camp Bow Wow® into the Stamford community.
For more information:
Visit Camp Bow Wow® online at http://www.campbowwow.com/Stamford, stop by for a personal tour or call the Camp at 203-504-2288.
About Camp Bow Wow®
At Camp Bow Wow®, campers can enjoy indoor, climate controlled play areas as well as large outdoor play areas complete with, security fencing, puppy pools and doggy playground equipment. Overnight campers lounge in cabins with cots and fleece bedding accompanied by a campfire treat at bedtime.
For the campers' protection, Camp Bow Wow® has a variety of security features including live Camper Cams® allowing dog owners to view their pets from remote locations throughout the day as well as a 24-hour security monitoring system. Camp Bow Wow® also has Certified Camp CounselorsSM to watch over the campers while they are at play. Camp Bow Wow® is the largest doggy daycare and boarding franchise in the country, with 67 locations open nationwide and over 220 franchises sold.
###