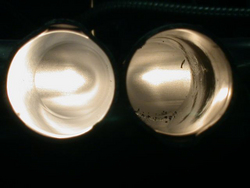 Midbrook has been washing parts for automotive suppliers for over 30 years. One of the most difficult applications involves cleaning tubes of varying lengths, bends and diameters. We are very excited to be able to offer this solution to the industry.
Jackson, MI (Vocus) June 2, 2008
Tubing, whether made of copper, aluminum or some grade of steel, is used in a variety of mechanical applications. Tubes need to be cleaned and installed in automobiles, refrigeration units, cooling applications, and other areas. Tube benders experience more challenges when it comes to cleaning their product than most other metal formers. Tubes present a challenge for cleaning, due to the viscosity of the lubricant used to protect the metal during the bends as well as the variations in shapes, tube diameters and orifice diameter. Midbrook Inc, a Jackson, MI based company, is now offering a new way to clean tubing. The Firbimatic process will eliminate many of the challenges associated with cleaning tubing, and provide better results than previous methods.
There are three methods used to clean tubes. The first is a fixtured, direct spray impingement style system. In this style cleaning system, the tubes are cleaned by a direct spray that delivers heated, alkaline solution into the inner tube diameter using both alkaline chemical, heat and the mechanical action from the spray pressure to break the surface tension of the soil and flush the lubricant from the part. These cleaning systems are inefficient for most tube benders, as the fixture can only be used for one type of tube. If there are multiple tube designs, then the fixture will need to be adapted for every design. Changing the fixture takes time, costs money, and slows production. Midbrook Sales Manager Jamie Crowley has dealt with tube cleaning often, and has noticed the difficulties associated with custom designing an effective cleaning process.
"It is impossible to build a universal fixture nest which can hold each tube configuration in the best orientation most conducive to accepting direct spray impingement. By trying to use the same design to clean all tubes, we have found all tubes were cleaned poorly."
Full immersion is another method to clean tubes. In a full immersion system, the tube is dipped into a bath and agitated. Sometimes, additional mechanical action is introduced from ultrasonic transducers. In these systems, the challenges are drying the part and finding a chemistry that can reliably break the surface tension present in the tubes. The results are often scattered and unreliable for a full time production run due to bath saturation. In addition, draining each tube of the wash solution prior to unload proves to be both time consuming and cumbersome.
The Firbimatic sealed solvent cleaning system offers a third method. Using perchloroethylene, the Firbimatic unit delivers reliable results and a high quality cleaning. Many companies are skeptical of using solvents in their cleaning process, but the stigma around solvent cleaning is unnecessary. Solvent cleaning, when applied properly, is not harmful to the environment. A sealed solvent cleaning system is able to control the cleaning solution and prevent damage to the environment. The Firbimatic cleaning machines recycle their solvents and use an activated carbon filter to ensure emissions remain close to zero.
In a recent test, the Firbimatic out-performed a dip tank full immersion, slow agitation, ultrasonic process that employed a strong alkaline cleaning solution. The pictures tell the story – the Firbimatic machine eliminated more contamination and produced a substantially cleaner tube than the full immersion dip tank process. Midbrook Lab Director Jack Griffes conducted the experiment.
"The difficulty in dealing with water based systems is that water and alkaline cleaning solutions are a fraction as effective in breaking the surface tension between soil and metal as perchlorethylene or other solvents. The Firbimatic excels at washing batches of tubes with varying configurations. The solvent has such a low surface tension that it easily removes the lube, chips, etc. from both the tube interior and exterior leaving the tube extremely clean and residue free – ready for assembly or the next process", said Griffes.
The ability to wash multiple types of tubes with a single wash process is appealing. Jamie Crowley says "Midbrook has been washing parts for automotive suppliers for over 30 years. One of the most difficult applications involves cleaning tubes of varying lengths, bends and diameters. We are very excited to be able to offer this solution to the industry."
Griffes added "the combination of a rotating basket, solvent spray, solvent immersion, solvent ultrasonics, and vapor degreasing allow the Firbimatic to make the difficult job of cleaning the entire tube interior look easy". The Firbimatic also allows for more flexibility in cleaning tubes. According to Griffes, "literally the tubes can be piled atop one another and be of varied shapes and diameters and still all come out both clean and dry." This versatility makes the Firbimatic process an option worth considering for any company that needs to produce clean tubes for their applications.
###