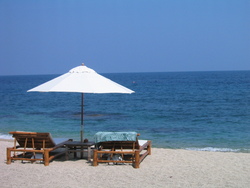 Corona, CA (Vocus) June 4, 2008
Honeymooner's Review Guide, which provides honeymoon and destination wedding planning advice for couples has released their recent findings for honeymoon couples who are choosing the USA mainland. Reasons range from high airline costs to negative exchange rates. Also, International couples wanting to take advantage of recent great bargains on US soil are coming to the US. The top honeymoon planning website just released their 2008 recommendations for where to go and where to stay for that romantic US mainland interlude.
LaVerne Haller states, "We are seeing more and more US and International couples who are selecting honeymoon travel sites in the United States for their weddings and honeymoons this year due to high costs overseas and bargains in the States." According to Haller, the majority of honeymooners tend to leave their native land or in the case of US citizens prefer Hawaii or the Caribbean to the mainland. However, recent high costs for US couples to fly and honeymoon in Europe, Asia and beyond has driven many to look to home for that special time together. As to European, Asian and other couples, the US looks like a great deal and offers many very romantic locales to start married life together.
Based upon data from returning honeymooners and their research, they recommend that couples consider the following for that special honeymoon or destination wedding on the US mainland (listed alphabetically):
Avalon Luxury Bed & Breakfast - Sonoma Valley, California
Bellagio, Las Vegas - Las Vegas, Nevada
Berry Springs Lodge Bed and Breakfast - Sevierville , Tenn
Blue Lake Ranch - Hesperus, Colorado
Carneros Inn - Napa, California
Hilton Promenade at Branson Landing - Branson, Missouri
Inn at Palmetto Bluff - Bluffton, South Carolina
Inn of the Five Graces - Santa Fe, New Mexico
The Inn at Bowman's Hill - New Hope, Pennsylvania
The Tides Hotel - Miami Beach, Florida
Their latest survey is not intended to be a complete list of all the top honeymoon hotels and resorts in the US mainland, but does provide guidance for couples planning their honeymoon travel. Haller states that, "in addition to our surveys, we check each provider to ensure that they are indeed considered the 'best of the best'."
Ratings are based upon 25 factors and stress ambiance, activities, customer service and romance. Honeymooners Review Guide and its website, http://www.honeymoonersreviewguide.com offers couples online access to 350+ planning pages of tips, articles, ideas on romance, destinations, and a database with over 3,000 hotels and resorts, with direct access to select honeymoon travel agents and destination wedding specialists.
The website encourages couples who return from their honeymoon to complete a short survey on their experience at their website survey page.
# # #