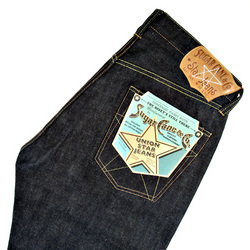 The word 'jeans' has become the vernacular for faux denim fashion wear that masquerades as the tough, classic waist overalls history made famous.
New York, NY (PRWEB) June 3, 2008
Win a pair of Sugar Cane Union Star Jeans Raw! In recognition of the latest Sugar cane style we are offering all denim enthusiasts the opportunity to win a pair of Sugar Cane Union Star Jeans.
To enter the competition you must be a forum member http://www.sugarcanejeans.co.uk/forum/competition/sugar-cane-jeans-competition-4.html and submit your answers as a comment within this thread. The questions are:
1) In which year were the Union Star Jeans first commissioned?
2) Up to how many types of cotton are used in the Union Star Jeans?
3) What shape is the back pocket stitching in the Union Star Jeans?
The competition will close 12pm GMT on 31st July 2008 and the winner will be selected at random from this thread.
Enter Competition here: http://www.sugarcanejeans.co.uk/forum/competition/sugar-cane-jeans-competition-4.html
SUGAR CANE UNION STAR JEANS RAW
The newest addition to the Sugar Cane denim line-up for 2007 is the Union Star Jean.
In July of 1965 Toyo Enterprise, the parent company of Sugar Cane, was commissioned to make a limited run of jeans for the U.S. Military PX. At that time Toyo Enterprise had been producing Aloha shirts for the U.S. Military PX but this order marked Toyo's first entry into the production of denim jeans. The pair of jeans pictured are of an actual pair from that order along with a copy of the order sheet issued by the U.S. Military PX to Toyo Enterprise. In recognition of this event in Toyo's history Sugar Cane has released the Union Star Jeans. The denim is 14.25 ounce selvage denim made from the finest 100% double ring-spun Zimbabwe cotton and includes details such as iron-made buttons, deer skin leather patch, and redline selvage.
Available in: Unwashed raw, 1 Wash and Hard wash - Straight leg fit
Explanation of Detail Images:
1.Original designed tack buttons are made of iron
2.For sewing: from the thickest to the finest cotton threads, a total of up to 13 different types are used (size 0 threads, the thickest, are used at the areas with the most stress and size 30, the finest, are used for the decorative stitches).
3.Deer skin leather patch in the shape of the United States mainland with a hand-sewn star in the center.
4.Back pocket stitching in the shape of a star
5.Rayon Union Star tab
6.Redline selvage, a feature of the old shuttle looms
SUGAR CANE JEANS are uniquely Japanese denim made from -- you guessed it- sugar cane. For many years, Sugar Cane Jeans were a ferociously guarded Japanese secret but today the brand is attracting global attention. Interestingly, Sugar Cane prefer to use the vintage term 'dungarees' in preference to the term 'jeans' to describe their product: "The word 'jeans' has become the vernacular for faux denim fashion wear that masquerades as the tough, classic waist overalls history made famous."
ORIGINAL SUGAR CANE DENIM FABRIC
Sugar Cane Jeans are constructed of fibres derived from the plant that gave rise to the brand name SUGAR CANE. Sugar is made from sugar cane, which seems simple enough, but not everyone knows that sugar cane and its byproducts contain essential amino acids and enzymes necessary to fuel and rejuvenate our bodies. Likewise, byproducts from sugar cane are used to fuel automobiles in Brazil in order to have a less harmful impact on the environment rather than found in burned fuels of a purely fossil origin. Following these facts in a rather philosophical approach, the textile specialists at Sugar Cane were the first in the world to produce a selvage denim fabric made from woven cotton yarns and sugar cane fibres .
WHAT MAKES OUR JAPANESE DENIM DIFFERENT FROM OTHERS?
Sugar Cane original vintage denim jeans were developed from the accumulated results of more than 20 years of research and experience of vintage jeans reproduction. The features of our jeans are that they do not resemble any other pair of manufacturer ' s jeans. The jeans we make are based on ' 5 Pocket Denim pants with rivets ' that the great forerunners made but are not just a copy of their external appearance.
Sugar Cane Jeans are cut from original and truly outstanding Japanese selvage denim. Japanese selvage denim is arguably the finest in the world and is made on old style shuttle looms rather than modern projectile looms. In simple terms this means that the cross thread goes back and forth during the weaving process. Modern looms shoot each cross thread through individually, hence the edge of the cloth is frayed rather than clean. No shuttle looms have been made for over 40 years as they can only make cloth about 30 inches wide whereas projectile looms can make cloth 60 inches or even wider for much less money.
Contact:
Sugar Cane jeans
Hash Clothing
2, Cumbergate
Peterborough
Cambridgeshire
PE1 1YR
United Kingdom
http://www.sugarcanejeans.co.uk
Tel: +44(0)1733 564077
Fax: +44(0)1733 564077
###