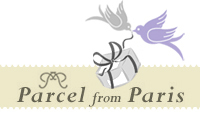 Why not offer this service to shoppers worldwide?
Paris, France (PRWEB) June 4, 2008
The city of lights is a virtual treasure trove for fashion lovers around the globe, but short of buying a ticket and hopping a trans-Atlantic flight many city exclusive perfumes, wait-list handbags and other desirable accessories have been nearly inaccessible off of the European continent. Parcel from Paris intends to change all that, seeking out the hidden gems of Paris fashion and delivering them to the doors of consumers all over the world.
"Modern luxury is less about the display of labels and logos, but about finding rare and unique items to match your individuality," says founder and owner Rachel Nefkens. Parcel from Paris was created to allow collectors and fashionistas to express that individuality through the use of Parisian designs and accessories unavailable anywhere else in the world.
Parcel from Paris was born when Nefkens and her husband were forced to briefly relocate to the Netherlands. After having worked as a stylist and fashion consultant in Paris for over ten years, she found living in what she jokingly refers to as "the fashion Siberia" to be a thoroughly unsatisfying experience.
They returned to Paris, laden with requests from family and friends in Holland to send them beauty products and perfumes unavailable where they were. Newly familiar with the frustrations of attempting to deal with companies who refused to ship internationally Nefkens thought, "Why not offer this service to shoppers worldwide?" and Parcel from Paris began to take shape.
Now, consumers can contact Parcel from Paris with a request to either place an order through a Euro-exclusive website (one that will only ship to locations in Europe) or for specific items from actual Parisian boutiques. The company will either place the order through the website, receive the products at their Paris location and forward them on to their international customer or take a trip to the boutique in question and pick up their customer's products of choice.
Through Parcel from Paris's website consumers can window shop the streets of Paris, sneaking a virtual peek into the display windows of some of the city's most exclusive boutiques. From the luxurious avenue Montaigne, to the artistic left bank district; Parcel from Paris takes shoppers into the heart of France to help them find the one of a kind fashions and accessories to express their unique personal style.
For more information on Parcel from Paris, visit Parcel from Paris
# # #